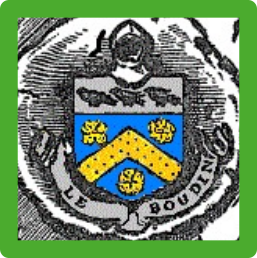 The Boudin Family Crest
×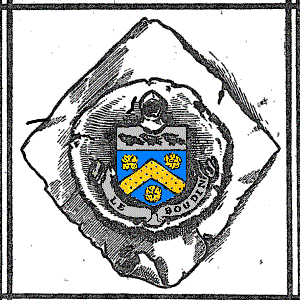 And see the latest by Ronny Bodine on the Bodine DNA Project at FamilyTreeDNA. Click on the link "DNA Project" further above.
Twenty-four years online now with 11,032 Bodines (along with 1,531 Berdine, Bordine, Bodin, Budine, Burdine & Beaudine)!
Welcome to
The Bodine Genealogy Website!
I'm Dave Bodine and most likely I am not related to you. There are many Bodine lines on this site - not just mine. Ronny Bodine, from another line of Bodines, does most of the research for this site. Together, the both of us hope that you find the information listed here of use to you in your research on the Bodines. Use the
Search Box
above and/or the link above to the
Name Index
page to find the Bodines you are looking for. Send me any corrections and additions to BodineGenealogy@gmail.com. My appreciation also goes out to my son Sam Bodine for many web design updates to this home page (he hopes to do more later). Thanks to all and enjoy.
Click this link to see Peter Van Nest Bodine's new book:
Cornelius Bodine, An American Patriot: A Story of Heritage, Family, and Personal Discovery


Bodine Origins: Where are we from? Click on either of the links below to see some of the Bodine data published to this site. These are only some of the Bodine lines at this site. Some other main ones are listed on the Ten Most Wanted (a.k.a. Unknown Bodines) page. And others can be found by doing searches on the Name Index page.
1. Jean Bodin of M&eacutedis, France (b. May 9, 1645). This Jean Bodin was born, it is said, in M&eacutedis, a village in the Canton of Saujon, District of Saintes, then located in the former French province of Saintonge, on May 9, 1645, based upon "a tradition universal in the family." This "traditional" statement is set forth by Mary Elisabeth Sinnott in her genealogical work, Annals of the Sinnott, Rogers, Coffin, Corlies, Reeves, Bodine and Allied Families (Philadelphia: J. B. Lippincott Co., 1905), p. 154. She does not state how this tradition came about. The year 1645 was noted earlier in E. P. Bodine's History of the Branch of the Bodine Family Founded by Cornelius Bodine, (Buffalo, 1897), p. 6 and in Biographical, Genealogical and descriptive History of the First Congressional District of New Jersey (New York: Lewis Publishing Company, 1900), ii, p. 283. The date May 9, 1645 was repeated, subsequent to Sinnott's publication, in Genealogical and Memorial History of the State of New Jersey (Lee, Francis Bazely, New York: Lewis Historical Publishing Company, 1910), iv, p. 1368, all of whom cited no references. No original source for this claim has yet been found. The location of his birth, M&eacutedis, appears to have some basis in fact. Upon having fled France, the French authorities noted his escape as "Boudin, fugitif de Medit, Election de Saintes" (Archives Nationales, Paris, TT No. 259).

Jean and Esther Bodin first removed to Soubize, a small village in the Canton of St. Agnant, District of Rochefort-sur-Mer. Accompanied by his wife, Esther, he fled his native country on Saturday, September 13, 1681, a date noted in the financial aid records of the Threadneedle Street Church in London.

The arrival in America of Jean Bodin can be ascertained only by June 19, 1701, when Jean Bodin, as a resident of Middlesex County, in the Province of East Jersey, purchased an 80 acre tract of land on Staten Island, New York from Johannes and Neeltje Messereau. Middlesex County was situated just across Hudson Bay from Staten Island.

It would appear from probate records that Jean Bodin, now better known as John Bodine, died shortly before March 24, 1708. His death likely occured shortly before January 3, 1708 when his will was noted in New York Calendar of Land Papers, iv (1704-1709), p. 81. For more information on this Jean Bodin, see his gorup sheet and Notes page. My appreciation to Ronny Bodine for the introductory information on his ancestor, Jean Bodin.

2. Jean Bodin of Bethune (b. 1645 - 1662). This other Jean Bodin was born near Bethune, France (possibly Richebourg) in the mid-1600s. There isn't a whole lot about this Jean that is yet certain. A lot of educated guesses have to be made in regard to him and his immediate family. I think much of this information is probably pretty accurate, but quite a bit is still uncertain. Hopefully, more evidence and investigation will shed further light on the subject.

Jean of near Bethune first married Mary Crocheron. They were betrothed (engaged) on December 26, 1679. Jean and Mary then married a couple of weeks later on January 11, 1680 in Midwout (an area in what is now Brooklyn, New York). For references to this marriage, see the New York Genealogical and Biographical Record, v. 111 - 1980, n. 1, p. 35 and a small abstract in the Year Book of the Holland Society of New York, 1898, p. 88.

3. William Bodine of Orange Co., NY (b. about 1710). Ronny Bodine has put this family together from scattered orphan lines of Bodines located in Ulster and Orange Counties, New York. DNA testing from 2008 seems to show that this William Bodine is somehow related to Jean Bodin of M&eacutedis, France. Maybe they had a common ancestor back in France or maybe William is a descendant of Jean Bodin. The connection remains unclear at this point.

Ronny writes, "The name of William Bodine has been used as the earliest ancestor of this family, yet, there has been no evidence that this man actually existed. A large number of Bodines appear in Orange County around the 1750s, many of roughly the same age, and in all liklihood many are siblings, though their precise relationships to each other remain unproven. Many Bodines served as sponsors to the baptisms of the children of other Bodines at the Brick Reformed Church of Montgomery in Orange County, yet, one is unclear if these sponsors were siblings, nephew or nieces, or cousins. Onomastically speaking, there is no doubt they all originate from one family. For the sake of convenience, it is here assumed that the progenitor was indeed a William Bodine and that the named children were his, until evidence can be found that refutes this. No Bodines are included in the lengthy militia lists of the 1730s and 1740s when they should have been, leaving the question if they were indeed present in the Orange-Ulster County area."

Ronny has done a lot of new research on the Orange and Ulster County, New York Bodines. See the latest information on them and see if you can add anything that might be missing or give more clues to figuring out this enigmatic line of Bodines.

>
---
Searching this site: Please read!
If you are searching for a person's name, the best way to do that is to click on the link to "Name Index" at the top and/or bottom of most of these web pages. This will take you to a complete list of names found at this site. Click on the name that interests you to go to the appropriate page. Try to come up with the most generic spelling of a person's given (first) name. For instance, if you can't find " Frank Bodine," look under " Francis Bodine." If you can't find " Fannie Bodine," look under " Frances Bodine." If you can't find " Margaretta Bodine," look under " Margaret Bodine." The Name Index page is pretty large and may take some time to download; so be patient. If you are looking for a place name or something else besides a person's name, then use the FreeFind search engine at the top of this page.
---
Note: Personal information about people who are or might still be living is not shown in the data pages at this site. I have used a genealogy program called Brother's Keeper (version 7.3.4) to convert the genealogy data into web pages. Pages are listed in the form of a family group sheet. This is an easy-to-read format that many genealogists know and understand. Besides Bodines, we also have many online here by the surname Berdine (484), Bordine (369), Bodin (286), Budine (246), Burdine (80) and Beaudine (66). Many are directly related to earlier Bodine families.