Bodine Locations and Organizations
I have put some links below to some locations and civic organizations associated with various Bodines in the United States.
Click on the links in each section below to find out more about those and/or that Bodine family.


---
Dongan Manor, Castleton (as formerly known), Staten Island, New York City, New York
---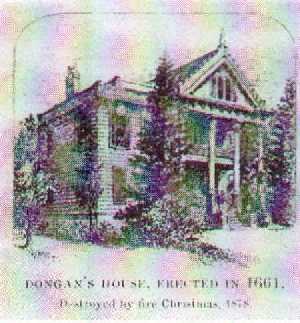 The Dongan Manor was the home of Governor Thomas Dongan of the Province of New York (served 1683-1688). He was one of the earliest governors of New York. The governor first granted the land to a friend, John (and Sarah) Palmer, on March 31, 1687. This was known as the Palmer or Dongan Patent. On April 16, the governor then bought the land from Palmer. The next year, Dongan built the manor house and began developing the land and a mill which stood on the property not too far from the house. The picture here does not show the original look of the house. This was made after the house had undergone a lot of renovation and "modernization." The house passed through the hands of some Dongan relatives before it ended up in the possession of John V. Bodine, Jr. (1781-1831). John Bodine was married at the Dutch Reformed Church of Port Richmond to Elizabeth Cruser, the granddaughter of Cornelius Cruser, of Castleton, in whose will of July 1, 1807 she was named as Elizabeth, wife of John Bodine (Richmond Co. Wills A: 369).
John (known as "Squire John") owned considerable property on the North Shore of Staten Island, among which was the mill, and the pond, and the land east of it, including the old Dongan Manor house mentioned above. He subsequently sold the manor to his father who died in that house in 1835. Unfortunately, the manor was destroyed by fire on Christmas 1878. Nothing remains now. There is a Bodine Street in Port Richmond named after this Bodine family. It is where the manor used to be. It was located between Bodine Street on the west, Dongan Street on the east, Richmond Terrace (the Shore Road) on the north, and Cedar Street on the south. Other names in the area associated with this family are Bodine's Creek, Bodine's Pond, Bodine's Mill, and Bodine's Orchard.

Peter Bodine's House, Raritan Landing, Piscataway Township, Middlesex County, New Jersey

---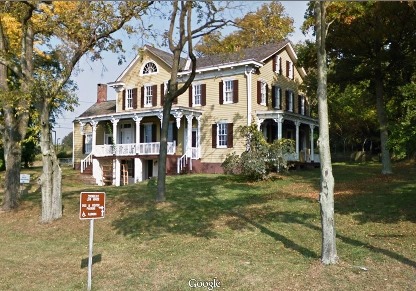 The Metlar-Bodine House is on the U.S. and New Jersey Registers of Historic Places. It is a colonial-era home from the early 1700's built by Peter Bodine (abt. 1690 - aft. 1749). See the official web site for more information. From this web site, I copy the following: "His small one room home, with sleeping loft and root cellar, was built in 1728 on a bluff along The Great Road Up the Raritan (today's River Road), about 1/4 mile from his warehouse. The busy commercial center survived numerous British incursions and several battles during the Revolutionary War, thriving until the early 19th century when it was overshadowed by New Brunswick, a boom town and county seat, boasting an interstate canal and railroad connection on the southwest side of the river. The Bodine House passed through a number of owners before it was expanded in the 1850s and named Sunnyside by George Knapp, a New Brunswick businessman. This Greek Revival addition, with its lovely front porch and circular attic window, and a Victorian style rehabilitation twenty years later, significantly improved the property. The entrepreneur George Metlar was a Central New Jersey real estate magnate who, by the late 1800s, owned thousands of acres in Piscataway. In 1890 he purchased Sunnyside allowing his farm manager, John Mason, to reside there. In 1914, George's son, John, inherited the house and one-third of his father's real estate holdings. John and his family moved in, his wife re-christening the home Metlar House when it became a trolley-stop for the light rail running along the River Road corridor. In the 1950s John sold Metlar House to John Newton, a Rutgers University professor. Dr. Newton appreciated the home's history and wrote the nomination that placed the site on the State and National Registers."
Notice on the map below, circled in red, the location of two Bodine houses in Raritan Landing: Peter Bodine (mentioned above) and John Bodine. John Bodine is Peter's son and was also a trader like his father. The map is from a Rutgers University collection online.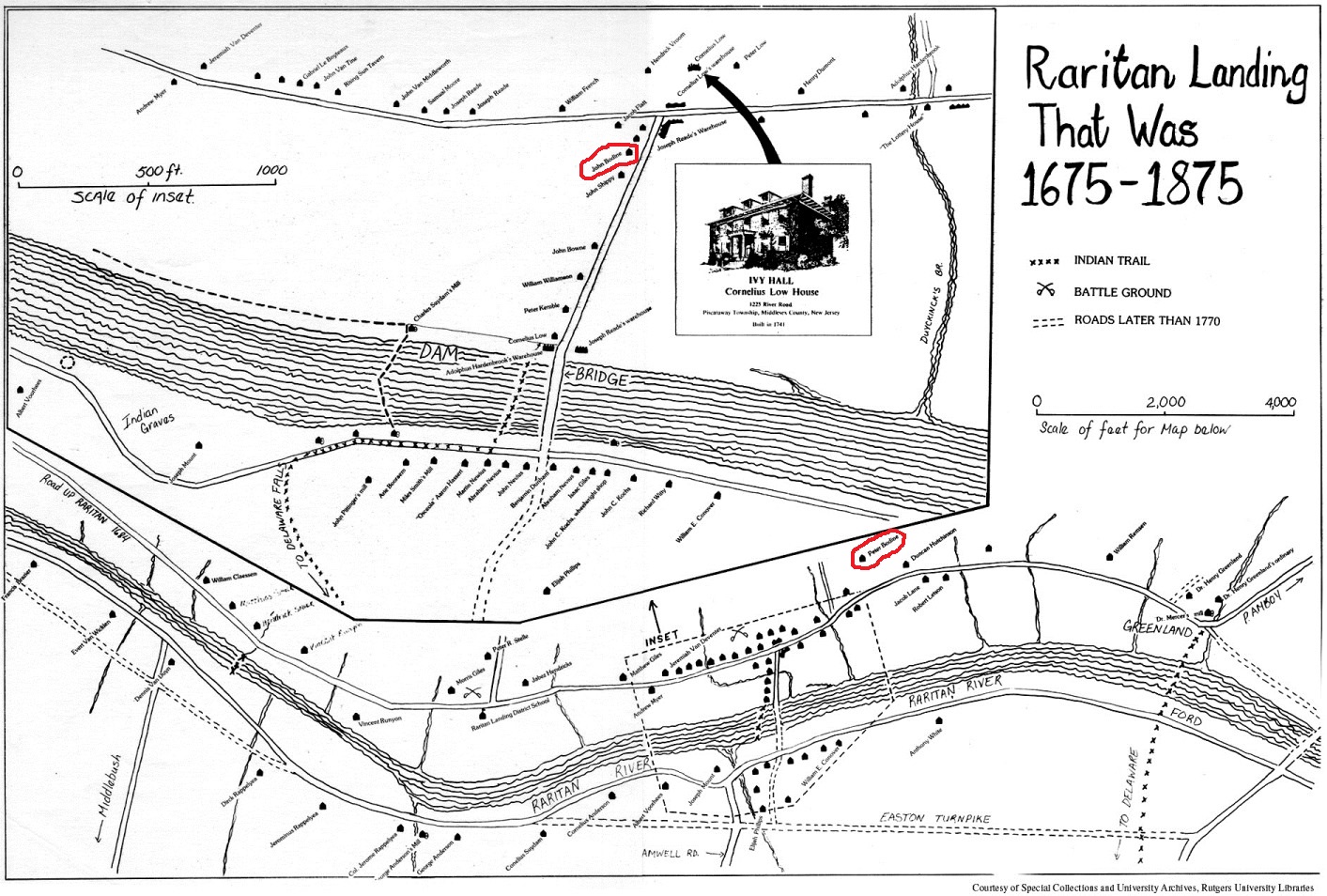 Bodine Farmhouse on Wallkill Road, north of the village of Walden, Montgomery, Orange County, New York
---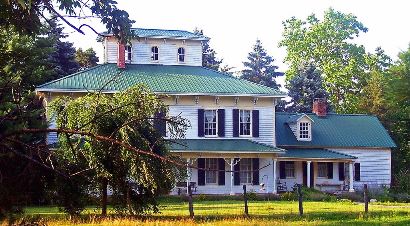 The Wikipedia article on the Bodine Farmhouse says it was added to the National Register of Historic Places in 2006. It also says this: "The Bodine Farmstead was possibly built in 1769 by William Bodine, the grandson of Jean Bodine [Note from Dave: We do not know that William Bodine was Jean Bodine's grandson.], but the record of his birth has not been found. He was granted a large tract of land of over 3,000 acres in the Town of Montgomery, outside the village of Walden, and his homestead was built in 1769 and occupied by several generations of his descendants. The last was Hillah Terbell in about 1908." The Wikipedia article is not specific, but it seems to say this farmhouse was built by the William Bodine who was born about 1710. It seems more likely that it was built by that William's son, William Bodine (1738-1802). The farmhouse is located at 50 Wallkill Road north of Walden. It is also known as the Bodine-Terbell Farmhouse.
DNA testing does show that this Bodine family was somehow related to the Jean Bodin from M&eacutedis, France; however, that relationship is still unclear. Maybe William is Jean's grandson or a great-grandson. Or the relationship between them connects back before Jean Bodin was born.

Bodine's Tavern on the Wading River, Little Egg Harbor Township, Burlington County, New Jersey
---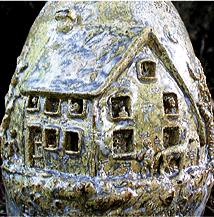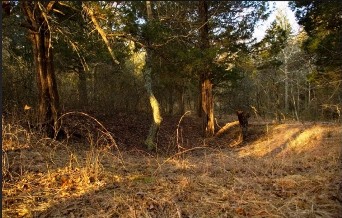 Bodine's Tavern was owned by Captain John Bodine (1747-1827). I have found no image of this tavern, but I have found an old cider jug for sale online with a purported image of the tavern. The info about the image says the cider jug "shows a few ghoulish horse boys with horses, Jersey Devil in a tree, someone hanging in the attic rafters, ghouls in the windows, Dutch onion bottles, jugs, etc." According to info on the Bass River History site, Bodine's Tavern was "the first official stop of the Tuckerton stage as it journeyed up the old Philadelphia Road." John Bodine, who became a captain in the Revolutionary War, opened up the tavern after the War and it became one of the best known inns of the area. It seems like all of John's children were born at the inn on the Wading River. Nothing remains of the tavern anymore except a depression in the ground where the cellar once was, and some bricks and stones. Bodine's Bridge is nearby. It got its name from the tavern which was still standing when its predecessor bridges were first built. To locate the remains of the inn, I found this on a blog: "When you pull into the entrance to the Bodine Field camping area, park off to your right close to the Wading River. Walk along the Wading and you should see it, the cellar hole of it at least. It is very close to the river. You'll know when you're there because there is a cedar tree that has a few stones encased around its trunk." Another webpage says this: "It is interesting to note that, while the Bodine Tavern cellar hole is in Bass River Township today, the tavern never operated within the jurisdiction of Bass River Township. It was located in Little Egg Harbor when it was built, and then became a part of Washington Township in 1802 when that township was formed from Little Egg Harbor Township. Fittingly, the first Washington Township governmental meeting was held in Bodine's Tavern with John Bodine being elected to the first Township Committee. Finally, in 1864, the Bodine Tavern area became a part of Bass River Township when the boundaries in that area were again realigned."

Village of Bodines, Lewis Township, Lycoming County, Pennsylvania
---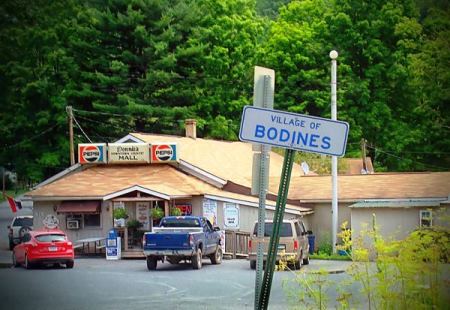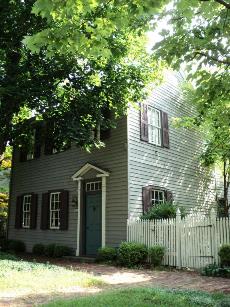 This town has also gone by the name Bodinesville at one time. The following comes from History of Lycoming County, Pennsylvania: "Another early settler on Lycoming creek was John Bodine. He came there in April, 1838, and was employed as a contractor in laying the track of the 'strap railroad' between Bodines and Ralston. When the work was finished he settled there and his place came to be known as Bodines, a name which it bears to this day. His son, Samuel Bodine, born June 12, 1814, near Allentown, Pennsylvania, followed his father in 1839, and remained. He now ranks as an old settler. John Bodine was born in Hunterdon county, New Jersey, in 1785, and died at his home in 1857." From my records, John W. Bodine was actually born in 1788 and died in 1858. He was married to Barbara Smithgall in 1809. Barbara's house in Muncy, Pennsylvania was recently converted into a Bed & Breakfast. That B&B may not be open now, but formerly its web site said of the house, "Built in 1805, The Bodine House has been authentically restored and is listed on the National Register of Historic Places. Many of the furnishings throughout the house are antiques." The owner at that time, David Smith, wrote me that the house got its name because there were reportedly six or seven generations of Bodine relatives that lived in the house they purchased in 1978. Most weren't named Bodine, however, because the house was passed down through daughters, not the sons. The first Bodine to live here was Barbara Bodine who came circa 1863 from somewhere in northern Pennsylvania. David said that there is a town named "Bodines" north of the Bodine House along State Route 14. Other "Bodine" names in the area are Bodine Mountain and Bodine Mountain Road.

Bodine Cemetery in Brown's Valley, Marshall County, Alabama
---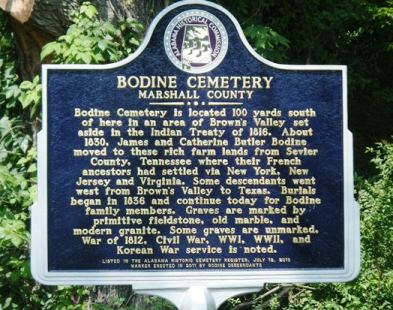 The Bodine Cemetery has burials from the family and descendants of James and Catherine (Butler) Bodine. Here is some information on this cemtery.
MARSHALL COUNTY'S BODINE CEMETERY ADDED TO ALABAMA HISTORIC CEMETERY REGISTER
The Alabama Historical Commission (AHC) recently added Bodine Cemetery to the Alabama Historic Cemetery Register.
Bodine Cemetery has exclusively served the extended Bodine family from the time they arrived in Brown's Valley beginning around 1830. It is a small cemetery occupying less than an acre of pastoral hillside near Guntersville. In addition to the Bodine name, others family names include Burk, Colbert, Copeland, Cosby, Cox, Deerman, Kirkland, Lee, McCollum, McWhorter, and Moon.
Although, James Bodine (1793-1836) was born in Loudoun County, Virginia, he grew up in Fairfax County. That area was taken to form Fairfax County in 1796. They moved to Sevier County, Tennessee about 1818 and settled on Flat Creek north of Sevierville. About 1827-1830, he migrated to that part of Jackson County, Alabama below the Tennessee River that was situated north of the Cherokee Indian Boundary. The treaty of 1816 with the Cherokees established their territory below the watershed of the Tennessee and Black Warrior River headwaters, this being the Locust Fork branch of the Warrior. Catherine (Butler) Bodine, daughter of Henry Butler, lived the rest of her life in Marshall County. In 1850, aged 58, she headed a household that included her children William and Sarah. In 1860, aged 65, she lived in the home of her son William. In 1870, aged 74, she lived with her daughter Sarah Collins and in 1880, aged 84, she was again living with her son William. The Guntersville "Democrat" in Dec 1880 reported that Catherine Bodine died on 26 Nov 1880, aged 86 years, at the residence of her son William Bodine.

Bodine College, Louisville, Jefferson County, Kentucky
---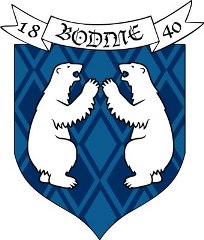 Bodine College is named after James Morrison Bodine, M.D. (1831-1915). I quote the following from a University of Louisville web site: "James Bodine was born in Fairfield, in Nelson County, Kentucky, on October 2, 1831. His father, Dr. Alfred Bodine, and mother, Fannie Maria Ray Bodine, came from distinguished pioneer families and were known for great intelligence and character. After primary education in Fairfield, he graduated from Hanover College in Indiana. He began medical studies as an apprentice to Professor Henry M. Bullitt, M.D., a founder of the Kentucky School of Medicine in Louisville, and he graduated from that school in March 1854. He married Mary Elizabeth Crowe in December 1855, and they moved to the Kansas territory. There, his practice thrived, and he established the first hospital in the territory. Also, he was elected the first President of the Kansas Territory Medical Society. In 1863, he returned to Louisville when appointed Chair of Anatomy in the Kentucky School of Medicine, where he demonstrated outstanding teaching skills. In 1866, the Kentucky School of Medicine and University of Louisville Medical Department temporarily merged. Although this lasted only a year, Bodine remained at UofL as Chair of Anatomy, a position he served until 1912."
"James Morrison Bodine, M.D. (1831-1915) was the longest-serving Dean of the University of Louisville, a highly acclaimed teacher, and a most picturesque character in Kentucky medical history. In a school known for great anatomists, he was among the most renowned, and his pioneering studies on eye anatomy helped found the specialty of ophthalmology. During his 40-year UofL Deanship, his remarkable leadership skills brought great curricular improvements and guided the School of Medicine though turbulent times to create the modern UofL. In 1907 through 1909, his leadership and diplomacy skills again served in guiding merger of Louisville's five medical schools into one, the modern University of Louisville. Recognition of this significant contribution came in form of election as President of the merged faculty, a position he held until retirement in 1913. The University and city he served so well expressed great accolades upon his retirement, and again on his death in 1915. The School of Medicine is proud of the legacy of Dr. James Morrison Bodine, and has named this college in his honor."

Bodine High School for International Affairs, Philadelphia, Pennsylvania
---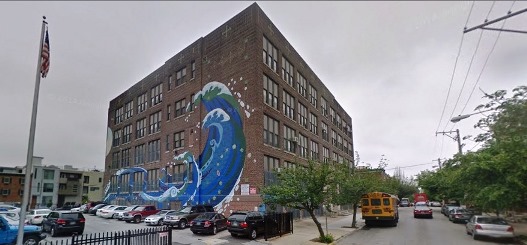 The Bodine High School for International Affairs is named after William Warden Bodine, Jr. (1918-1983). William was a descendant of the Revolutionary War soldier, Captain John Bodine, mentioned earlier in this section. Here are some excerpts from his obituary from the Philadelphia Inquirer of August 12, 1983.
William W. Bodine Jr., 65, one of Philadelphia's leading civic figures, died yesterday of cancer at Thomas Jefferson University Hospital. He lived at Cambria in Villanova. He was a sportsman and war hero in his youth and went on to make his mark in the political, business and civic worlds. In the process, he became a man who knew the world and its leaders. He met them on a first-name basis. During his life, he was active in numerous organizations. He was chairman of the board of the World Affairs Council of Philadelphia, an organization that he helped shape into a world forum, and he was an officer of 25 other major organizations.
He succeeded in winning approval for a school of international affairs, a school where students could be trained for diplomatic work. Working with the Philadelphia public school system, the World Affairs Council mapped a curriculum for the first such school in the world. The old Jefferson Elementary School at Fourth and George Streets was refurbished as a magnet school and opened its doors two years ago. Its opening meant far more to him than the calls from Air Force One and the chance to chat with Ronald Reagan, Jimmy Carter, Ted Kennedy or Willy Brandt, the former chancellor of West Germany. And the scholarships that took four students abroad this year, plus the opportunity for students to work as interns in diplomatic roles starting next year, added to his pleasure. He was a superb organizer, a man who could find a time and a place for everything. He was as enthusiastic about civic work as most men are about their sports and hobbies, friends said. For him, civic work was an obligation, friends said.
He was raised at Oakwell, the family estate in Villanova, the son of William Warden Bodine, a lawyer who held major interests in banking, insurance, utilities and concrete, served as president of a number of civic and charitable organizations, and gave time and money to the Republican Party. As his father had 23 years earlier, he enlisted in the 108th Field Artillery after study at Harvard and, like his father, he was soon sent overseas to fight in Europe. As the commander of a tank-destroyer unit, the 6-foot, 200-pound former polo player took his men on a sweep through the Low Countries until they reached the Malmedy sector near the Belgium-Luxembourg line. Near the middle of a 26-mile-long line held by the 28th Division, he and his men battered the Siegfried Line with sustained fire. But the continuing bombardment was broken by attacking Panzer units followed by German infantry; the Battle of the Bulge was on. Lt. Col. Bodine and many of the men who he led were taken prisoner near St. Vith. Some men were lost in the massacre in the Malmedy Woods. Others, including the colonel, were loaded onto boxcars, bound for prisoner-of-war camps. Although he was wounded in the process, Mr. Bodine escaped, made it back across the Allied lines and was hospitalized for five months. He was then assigned to Gen. Dwight Eisenhower's staff and awarded the Purple Heart, Legion of Merit and the Croix de Guerre with Palm.

The Bodine School in Memphis, Tennessee
---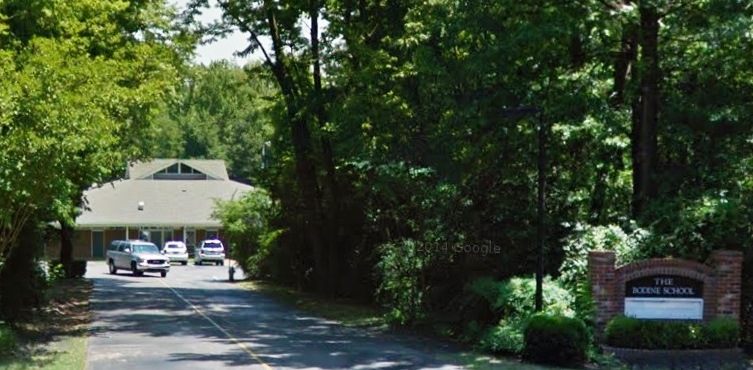 The Bodine School was established in 1972 by Richard and Virginia Bodine in memory of their only son, Rick. The school's web site says the following, "While attending The Mills School in Florida due to the lack of resources for learning disabled students in the Memphis area, Rick had a fatal accident. Honoring his memory became a mission of the Bodine family, and establishing the school allowed families in the Mid-South area to send their child with dyslexia to a local school. The decision to establish a facility in Memphis was also based on the interest, involvement and work of many lay and professional people who recognized the needs of the area students. Today, Bodine School remains the only school in the Mid-South and in all of Tennessee that is solely committed to teaching children with dyslexia and other reading-related learning differences to read and succeed."