Bodine Origins
---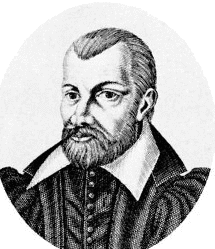 The Bodine name has its origin in France. There it is spelled Bodin and is quite common. I remember picking up some phone books while I've traveled in France to look for people named Bodin. I often found lots of them listed. Several important figures in French history carried the name Bodin. The most famous was Jean Bodin the philosopher (1530-1596) pictured above. Despite what some claim, it is highly unlikely that the American Bodines are in any way related to that Jean Bodin. It would be like saying you were related to the pirate Davy Jones just because you had the last name Jones. Proof of such relationships is needed before such claims can be made. We can confidently say there is NO proof that the American Bodines are related to the famous French philosopher. If that is true, the proof has not yet come to light.
There is a fraudulent genealogy going around that links the American Bodines to some famous Bodine-like names in France running back into the 1300's or so; however, there is absolutely no proof to back up this information. It appears to be the work of a 20th Century genealogist named Gustave Anjou (1863-1942). He was a Swede whose real name was Gustaf Ludvig Ljungberg. He fabricated pedigrees to please those who paid for his services. I think his research on the Bodines came through his work on the Corlies family. Trustworthy genealogical research on the American Bodines can really only be traced back, so far, to the Jean Bodines who came to America in the late 1600's. Anything before that is still uncertain.
It seems like some genealogists search for ways to link themselves to famous people and it doesn't matter if there isn't a shred of evidence to back up their wild claims. If someone needs such a link to be proud of their heritage, then that is already a sad testimony to their roots.
We can safely say that if your last name is Bodine, then most likely some ancestor of yours originally came from France (not in every case, though). However, few, if any, Bodines seem to have come directly from France to America. So far, almost all of the Bodines we have studied have come to America after first having passed through other countries like England, Holland and Germany. After leaving France, these Bodines may have spent only a short time in these other countries. Or they may have spent several generations there before making their way to America. The spelling of the Bodine name has also changed over time. Some families that started out as Bodines have now become Bordines, Burdines, Berdines, Budines, etc. However, it is not true that all or even most of those names started out as Bodine - only some did. Note that there are some Bodine lines that came to the USA from Italy, Poland and even Russia. Those Bodine families probably have no connection to France. And there are quite a few Bodine families who immigrated to the USA from Sweden in the late 1800's. They do not have a connection to France either. Their Bodin/Bodine name is based on Scandinavian naming customs and has to do with place names related to their geographical origin in Sweden.
The Bodines from Flanders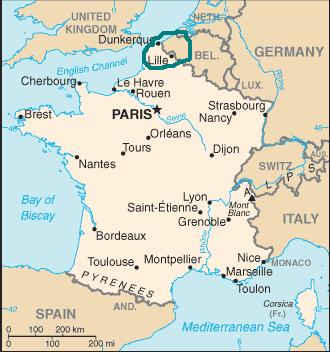 One area where Bodines came from in France was at one time called Flanders. See the map above of France for the approximate location of where Flanders used to be located. I have drawn a green circle around the general area. Flanders was an ancient kingdom that no longer exists in the same form today. It was comprised of parts of what is today northern France, western Belgium, and southwest Holland.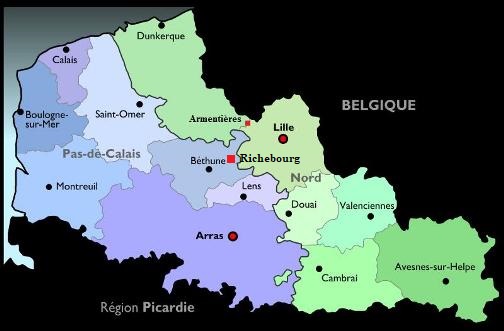 By his betrothal record of December 26, 1679 at the Reformed Protestant Dutch Church of Flatbush (in New York City), we know that Jean Bodin (b. 1645-1662), one of our early Bodine ancestors in America, was from near the town of Bethune in Artois (Artois was what the French then called that part of Flanders). His wife was listed as from Lille in Flanders. Years back, I did some research in Bethune and did not come up with any good connections to Bodines back in the 1600's. But just to the northeast of Bethune is the small town of Richebourg. A little further north of Bethune is the city of Armentieres. They are both marked by red squares on the map here of Pais-de-Calais & Nord, France. I now believe Jean Bodin came from Richebourg, but let me say a few things about Armentieres first. Research has shown that there were a number of Bodines from Armentieres, born there in the late 1500's, who later had moved to Holland. Some of the names were Peter, Abraham and Isaac. These are common names of the American Bodines, too. It is only a guess, but since the American Jean Bodin was from NEAR Bethune, and Bethune is only a few miles from Armentieres, then it is possible he was at least related to those Bodines from Armentieres. Whatever the case, the American Jean Bodin did come from the Bethune area. See the location of Bethune which is also marked on the map here of Pais-de-Calais & Nord, France. I have more on these Armentieres Bodins in the Archive Room at this site. They were a prominent family in Leiden (Holland) in the 1600's. The common names between this family and the American Bodines, the Protestant religion they both shared, and the close proximity of their origins in Northwest France make me believe that they are probably related.
As I said, though, I now believe Jean Bodin came from Richebourg, France. The research is rather extensive to get into here, but it looks highly probable that Jean Bodin from near Bethune was a native of Richebourg. See the research on this question on his Notes page for that.
The Bodines from Medis, France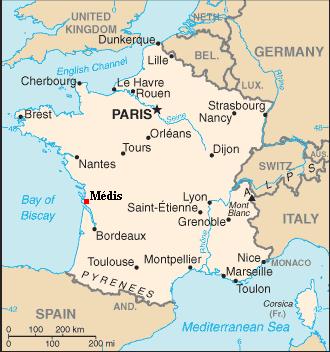 A second area where we know Bodines came from in France was the small town of Medis. See the map of France here for the location of this town. My wife and I visited there in the 1990's. It is a small town in the countryside in a beautiful area of France. The Wikipedia entry for Medis doesn't have much, but it does say that it is a bastion of Protestantism. Jean Bodin (b. poss. 1645), another American Bodine different from the one mentioned above, fled France on September 13, 1681 because he was persecuted for his Protestant faith. The location of his birth, Medis, is based upon the fact that having fled France, the French authorities noted his escape as "Boudin, fugitif de Medit, Election de Saintes" (Archives Nationales, Paris, TT No. 259). Medit is a previous spelling of Medis. Before fleeing France, he had lived in Soubize (Soubise) which was not too far north of Medis. See the towns marked by a red squares on the map here of La Rochelle and nearby towns.
In 2009, Tom and Kathy Bodine wrote me about a trip Kathy had made to Medis, France (Tom is the son of George Willis Bodine). See the link to info from that trip in the Archives Page under Research in France to see some photos Kathy took and some research she did while on a three day visit to that area. There is some very interesting information, very possibly about the Jean Bodin who came to America, that she gathered while there. And there are some photos of a street in Medis which might have even been named after Jean or his family.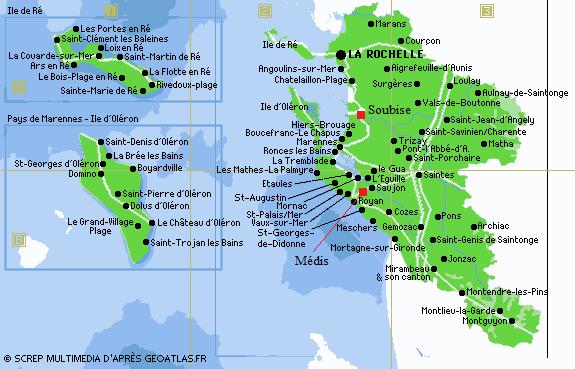 The map here of La Rochelle is a close-up of the area where Medis is located today. The area is the Department of Charente-Maritime which was also a bastion of Protestanism in the 1600's. The web site "Protestant Memory" has this to say about that time:
In 1534, young monks in the saintongeais area, heard directly from Calvin himself, the speech he would pronounce at Angoulême and Poitiers. Soon The Reform would be expounded in the southwest of the Saintonge region, in today's Arvert peninsula. Half a century later, the majority of the population was Protestant.
Faced with the spread of new ideas, the Royal power first seemed hesitant. Denouncements were encouraged by the Inquisition. The Parliaments of Paris and Bordeaux, under whose authority were the Aunis and Saintonge regions, were soon to pronounce the first death sentences. It was said that Marie Bécaudelle, a young maidservant educated in La Rochelle, had just been burnt at the stake at Essarts, in Bas-Poitou. In 1546, two of the monks who had introduced the Reform at Arvert and on the island of Oléron were burnt, one at Saintes, the other at Libourne. New Lutheran converts were reported on the Arvert peninsula. In 1553, the pastor Philibert Hamelin, co-founder of the Reformed Church of Saintes, preached at Arvert. He was arrested, imprisoned, taken to Saintes and then to Bordeaux. He would be sentenced to be burnt at the stake for heresy and for "error."
The Reform extended over the entire territory. From 1620 to 1622, Royan was under the sole authority of The Reform. Later, the King's administrator speaking of what is currently the Pays royannais, would stress that at Arvert and La Tremblade: "The Catholic religion was hardly known, since the pretended reformed religion is so much in vogue and in authority."
Promulgated in 1598, the Edict of Nantes was now applied rigorously, which meant in the most restrictive way. In 1628, public practice of the Protestant religion was forbidden on Ile-d'Oléron. In 1630, Île-de-Ré was struck by the same measures. In 1633 and 1640, they reached the towns of Saujon and Marennes, in the Pays de Marennes-Oléron. In 1644, Arvert and Royan were the object of the royal prohibition. In 1658, Marsilly, in the north west of the Département, experienced these restrictions in turn. The Pastors fled their parishes. At La Rochelle 2200 Huguenots, set up there since the Siege, were sentenced to "vacate the town."
A few years before the Edict of Nantes was revoked, persecutions against the Protestants had started again. The King's Dragoons, these "missionaries in boots" who sowed terror where they went, were marching on Arvert. The temples were demolished. First Arvert, then Marennes, lost their places of worship in 1684. In 1685, the pastor of Marennes took to sea. Many sailors from the saintonge area had already left for England and Holland. As of 1681, the people of Charente-Maritime, wholesalers, bargemen and "people of modest means," had organized their escape
It was a time of extreme religious intolerance. Religious "freedom," as it was in France at that time, was about to come to an end. Jean Bodin and his wife would soon have to escape from France on their way to making a new life for themselves in England, then America.
1. Jean Bodin of Medis, France (b. poss. 1645). This Jean Bodin was born, it is said, in Medis, a village in the Canton of Saujon, District of Saintes, then located in the former French province of Saintonge, on May 9, 1645, based upon "a tradition universal in the family." This "traditional" statement is set forth by Mary Elisabeth Sinnott in her genealogical work, Annals of the Sinnott, Rogers, Coffin, Corlies, Reeves, Bodine and Allied Families (Philadelphia: J. B. Lippincott Co., 1905), p. 154. She does not state how this tradition came about. The year 1645 was noted earlier in E. P. Bodine's History of the Branch of the Bodine Family Founded by Cornelius Bodine, (Buffalo, 1897), p. 6 and in Biographical, Genealogical and descriptive History of the First Congressional District of New Jersey (New York: Lewis Publishing Company, 1900), ii, p. 283. The date May 9, 1645 was repeated, subsequent to Sinnott's publication, in Genealogical and Memorial History of the State of New Jersey (Lee, Francis Bazely, New York: Lewis Historical Publishing Company, 1910), iv, p. 1368, all of whom cited no references. No original source for this claim has yet been found. The location of his birth, Medis, appears to have some basis in fact. Upon having fled France, the French authorities noted his escape as "Boudin, fugitif de Medit, Election de Saintes" (Archives Nationales, Paris, TT No. 259).
Jean and Esther Bodin first removed to Soubize, a small village in the Canton of St. Agnant, District of Rochefort-sur-Mer. Accompanied by his wife, Esther, he fled his native country on Saturday, September 13, 1681, a date noted in the financial aid records of the Threadneedle Street Church in London.
The arrival in America of Jean Bodin can be ascertained only by June 19, 1701, when Jean Bodin, as a resident of Middlesex County, in the Province of East Jersey, purchased an 80 acre tract of land on Staten Island, New York from Johannes and Neeltje Messereau. Middlesex County was situated just across Hudson Bay from Staten Island.
It would appear from probate records that Jean Bodin, now better known as John Bodine, died shortly before March 24, 1708. His death likely occured shortly before January 3, 1708 when his will was noted in New York Calendar of Land Papers, iv (1704-1709), p. 81. For more information on this Jean Bodin, see his gorup sheet and Notes page. My appreciation to Ronny Bodine for the introductory information on his ancestor, Jean Bodin.
2. Jean Bodin of Bethune (b. 1645 - 1662). This other Jean Bodin was born near Bethune, France (possibly Richebourg) in the mid-1600s. There isn't a whole lot about this Jean that is yet certain. A lot of educated guesses have to be made in regard to him and his immediate family. I think much of this information is probably pretty accurate, but quite a bit is still uncertain. Hopefully, more evidence and investigation will shed further light on the subject.
Jean of near Bethune first married Mary Crocheron. They were betrothed (engaged) on December 26, 1679. Jean and Mary then married a couple of weeks later on January 11, 1680 in Midwout (an area in what is now Brooklyn, New York). For references to this marriage, see the New York Genealogical and Biographical Record, v. 111 - 1980, n. 1, p. 35 and a small abstract in the Year Book of the Holland Society of New York, 1898, p. 88.
3. William Bodine of Orange Co., NY (b. about 1710). Ronny Bodine has put this family together from scattered orphan lines of Bodines located in Ulster and Orange Counties, New York. DNA testing from 2008 seems to show that this William Bodine is somehow related to Jean Bodin of Medis, France. Maybe they had a common ancestor back in France or maybe William is a descendant of Jean Bodin. The connection remains unclear at this point.
Ronny writes, "The name of William Bodine has been used as the earliest ancestor of this family, yet, there has been no evidence that this man actually existed. A large number of Bodines appear in Orange County around the 1750s, many of roughly the same age, and in all liklihood many are siblings, though their precise relationships to each other remain unproven. Many Bodines served as sponsors to the baptisms of the children of other Bodines at the Brick Reformed Church of Montgomery in Orange County, yet, one is unclear if these sponsors were siblings, nephew or nieces, or cousins. Onomastically speaking, there is no doubt they all originate from one family. For the sake of convenience, it is here assumed that the progenitor was indeed a William Bodine and that the named children were his, until evidence can be found that refutes this. No Bodines are included in the lengthy militia lists of the 1730s and 1740s when they should have been, leaving the question if they were indeed present in the Orange-Ulster County area."
Ronny has done a lot of new research on the Orange and Ulster County, New York Bodines. See the latest information on them and see if you can add anything that might be missing or give more clues to figuring out this enigmatic line of Bodines.