Notes for: Jacob (J. Jacob?) Bodine
I have never seen any original sources listing the names of John Bodine and Mary Crocheron's children. As far as I can tell, the best list of these children would be John, Isaac, Jacob, Sarah, Catherine, Peter, and Abraham (and maybe a Judith). However, one should realize that this is only an educated guess. Hopefully, more information will come to light on who John and Mary's children were, but it is not likely. These children were probably born on Staten Island, but there is no source for that information either.

It is almost certain that all the children John Bodine of Bethune and his wife Mary Crocheron would have been born on Staten Island and baptized at the old French Huguenot Church of Fresh Kills (now Greenridge). However, the church records are now lost. Registers from this church did exist at least until 1758 when they were last in the hands of Henry Latourrette, the son of Jean Latourrette and Maria Mercereau. It is thought that these were probably destroyed during the American Revolution by the English and their hired Hessian mercenaries. They probably also destroyed the old church and graveyard. The British did this to those they thought supported the American Rebels (adapted from http://www.latourrette.net/jean_america.html). If by some miracle those records ever were discovered, I'm sure they would reveal a lot about the family of John and Mary Bodine. Without those, we will not know the details of the births and baptisms of John and Mary's children.

Here is some information sent to me by Scott Thompson (iamsthomp2 at worldnet.att.net). It comes from page 490 of History of Hunterdon and Somerst Counties New Jersey, compiled by James P. Snell (Philadelphia: Everts & Peck, 1881). The information in Snell's book does seem to have several errors, but it is probably the earliest information on who some of the children of John and Mary Bodine were. He must have gotten this straight from some of those Bodines themselves. Here is the info:

The Bodine Family is an honored one in the history of France, but moderate as were the advices of Jean bodine, the wise counselor of Henry III, his relatives were afterwards compelled to flee, with other Huguenots, to Holland, whence they ultimately came to Staten Island, at least as early as 1701.*

From the mouth of the Raritan they ascended to its source. Among the settlers of this region there were at least five of this name, all of whom left a large number of descendants.

*The earlier history of the Bodine family has been traced by Rev. Dr. Charles Baird, of New Rochelle, N.Y., for his forthcoming work on the Huguenots of America.

John Bodine had a plantation, early in the last century, on the west side of the North Branch. Immediately north of that was the Ammerman tract, and immediately north of that the Du Mont tract. This John Bodine had a son Abraham, who married Mary Low, and had John, baptized April 15, 1748; Judick baptized March 31, 1745, married Samuel Willemsen; Mary, probably the Mary that married Thomas Cooper; Cathelyntje, baptized Sept. 3, 1749; Sarah baptized Aug. 10, 1755 ; Cornelius, baptized November, 1755, married Margaret Sutphen, of Six-Mile Run, born 1754, and had Abraham, Peter, John, Cornelius, Gilbert, Issac, Charles, and George, all deceased.

Isaac Bodine had eleven children,- eight by his first wife, Cataleyn, and three by his second wife, Jannetje. These children, with dates of baptism, were Jan, Nov. 19,1703; Jantien, April 30, 1707; Frederick April 26, 1709; Mareyken, April 25, 1711; Kataleyn, Aug. 8, 1713; Isaac, April 5, 1715; Abraham, July 31, 1717; Elizabeth, Oct. 31, 1719; Hester, Dec. 25, 1723; Isaac, Aug. 16, 1730; and Jannetje, Aug. 16, 1730.

Peter Bodine had two children by his first wife and one by his second, Margrita. Their names and dates of baptism were Jan, April 30, 1712; David, April 3,1717; Mareytje, Oct 15, 1738.

Jacob Bodine's wife was named Elizabeth. They had six children,-Viz,, Jan, St. Jantien, Jacob, Catherine, Cornelius, and Antje.

Abraham Bodine married Adriantje Janse, and had nine children, among whom were Catrina, baptized April 14, 1725, and married Lodewyk Haydenbrook; Peter baptized December, 1726 and twice married ( first, Mareytje; second, Widow Williamson}; John, baptized Dec. 5, 1730, married Femmetje Vorhees; Abraham and Judick. The last named was born March 17, 1735, and ultimately married John Thompson.

***End of info from Scott Thompson.


Jacob Bodine of Staten Island, New York

Jean Bodin of Bethune and Maria Crocheron's third child was Jacob Bodine. (See the discussion later in this section on Jacob's first name.) According to some data, he was born about 1684, probably in Richmond County (Staten Island), New York. Some information lists his birth year as around 1690. A listing at www.FamilySearch.com gives his birthdate as 1675 in Midwout (or Flatbush), New York. That is probably a little too early. Information from the May or July Sebring Family Newsletter gives the year 1684. This seems to make more sense than 1690 or 1675. Around 1710, he was married to Elizabeth Sebring.

Elizabeth Lubetze or Elizabeth Sebring

A lot of information says that Jacob Bodine's wife was named Elizabeth Lubetze. However, there is no primary source for this last name. It is not even sure where this name "Lubetze" originated. It may have come from a well-known Bodine researcher, Mary Sinnott, thinking that Elizabeth's first name in Dutch, Lesbetje, written in the Raritan baptismal records was actually her last name (Annals of the Sinnott, Rogers, Coffin, Corlies, Reeves, Bodine and Allied Families. Mary Elizabeth Sinnott. J.B. Lippincott Company: Philadelphia. 1905. p. 158). That is the only place anything like "Lubetze" has appeared. Jacob's wife's first name is listed at four of their children's baptisms in the records of the Dutch Reformed Church of Raritan in Somerset County, New Jersey. Her first name appears as Lysbet, Elizabeth, Lesbetje, and Lisabeth. Her last name never appears. More recent information than Sinnott states that Elizabeth's last name was Sebring. This would make sense. The source for the name "Sebring" seems to be a series of articles written in the Somerset County (NJ) Genealogical Quarterly, which was edited by a Fred Sisser, III. Mr. Sisser was the editor and "a renowned genealogist of early Dutch families." His publication was devoted to the area where many Sebring ancestors settled, along with the following related families: Bodine, Van Neste, Jans/Jansen, Van Arsdale, Fulkertson, and Billew/Bilyue. Mr. Sisser is a descendant of the Sebring, Stryker, and Polhemius lines. These articles appeared in the December 1985 issue. The first was on pages 229-237. That article was titled Bodine Wives. This discussed the identity of some women who married into the Bodines. The other article appeared on pages 249-250 and dealt with identifying the Initials IB and EB which appeared on a foundation stone of a house in New Jersey. In summary, the first article said that from the witnesses at Jacob and Elizabeth's children's baptisms and from the times they witnessed at other baptisms, it is apparent that Elizabeth's last name was indeed Sebring. The witnesses at their daughter Mary's baptism in 1711 were Daniel and Marya Sebregh. Daniel is Elizabeth's brother. When Jantien was baptized, the witnesses were Ouke Jansen and wife. Ouke's wife was Catherine Sebring, Elizabeth's sister. Elizabeth and Jacob witnessed at the baptism of a son of Mordecai McKinney in 1715. Mordecai's wife was Mary Sebring, Elizabeth's sister. For the rest of this article on Jacob's relationship to Elizabeth Sebring, see the December 1985 issue of the Somerset County Genealogical Quarterly, pages 229 to 237. (Some of the information from this quarterly also appeared in the Sebring Family Newsletter in May and July of 1989.) Copied below are some extracts from pages 249 and 250 of the Somerset County Genealogical Quarterly:

As a postscript to the account on The Bodine Wives, appearing in this issue, the editor wishes to point out that the above inscription (IB and EB) was the inspiration for the Wives article.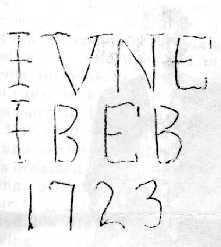 On a very hot evening this past August, the editor, unable to sleep, sustained the weather by trying to identify the initials "IB and EB," illustrated above (a representation of this inscription is given in the article). The initials and date (June 1723), carved into a foundation stone of a Bridgewater Township home, were the subject of a lengthy article, Who Were 'IB and 'EB'? appearing on pages 52-59 of North of the Rariton Lotts, edited by Edward J. Maas (1975). The author of this article, who is not identified, indicated that he/she expended two and a half years of research in order to determine to whom the initials belonged, concluding they were possibly those of Isaac Bilyue and his wife. The narrative ended with the remark: It is hoped that future historians will be able to uncover some now-hidden information to provide indisputable names for "IB" and "EB." And so the editor took up this challenge on that hot summer night, and, as a genealogist, not an historian, was quickly able to "uncover" the answer, not among "some now-hidden information," but among several genealogical sources which have long been available. It was easy to conclude that the "I" (with a line through the middle) --an archaic way of using the letter "J" -- was in fact the letter J, as indicated by the same letter being used for the month "IVNE," i.e., "JUNE." Hence, it became a matter of ascertaining who might represent "JB" with a wife whose first name began with an "E." Unquestionably, the most comprehensive accumulation of names for the Bridgewater Township area in 1723 are the baptismal records of the Reformed Dutch Church of the Raritan. Interestingly enough, in September, 1723, one Jacob Bodyn ("JB") and his wife "Lesbetje," (one of numerous ways in which the Dutch wrote the name Elizabeth, and would therefore be "EB"), had a son baptized at this church (SCHQ 2:212).
The study of the family of Jacob and Elizabeth Bodine that ensued resulted in the Wives account, in which it is indicated that Elizabeth was a Sebring. Her connection with this family further confirmed the identity of the initials on the stone. Members of the Sebring family were among the first to settle the area of Bridgewater township in which the stone is now located. In fact, in other chapters of North of the Rariton Lotts, it is recorded that Cornelius Sebring was among the first to purchase land in the stone's eventual locale. As the several Sebring genealogies attest, Cornelius was Elizabeth's older brother.
Jacob Bodine in New Jersey
At the time of their marriage, or soon after, they were living near Raritan, New Jersey. For it was at Raritan (now Somerville), New Jersey Dutch Reformed Church that all seven of their children were baptized. [Records from the Reformed Dutch Church of Raritan, later named First Reformed Church of Raritan (now Somerville), Somerset County New Jersey. Organized March 9, 1699. These were published in the Somerset County Historical Society Quarterly, v. 2-4 (1913-1915).] In 1716, in his twenties, he was licensed to keep an inn in Middlesex County (Sinnott, p. 158). Middlesex was just west across the water from Staten Island into New Jersey. Here are some entries where Jacob Bodine is mentioned in the baptismal records of the First Reformed Church of the Raritan. I'm not sure if this is all: Apr. 25, 1711 Bodien, Jacob and wife--Maryken. Witnesses: Daniel and Marya Sebregh. Nov. 2, 1711, Bodien, Isack and wife - Kateleyn. Witnesses: Jacop Bodien and wife Oct. 9, 1714 Bodyn, Jacob and wife - Jan. Witnesses: Isack Bodyn and wife. Aug. 25, 1715 Machkini, Morcdihay and wife--Willem. Witnesses: Jacob Bodyn and wife. Aug. 22, 1716 Bodien, Jacob and wife--Jaentien. Witnesses: Ouke Jansen and wife. Apr. 5, 1719 Bodyn, Jacob and Lysbet--Jacob. Witnesses: Jacob and Judie Poljon. May 7, 1721 Bodyn, Jacob and wife, Elisabeth--Catharina. Witnesses: Pieter and Marietje Bodyn. Sep. 29, 1723 Bodyn, Jacob and Lesbetje--Cornelis. In 1720, he was appointed a surveyor of highways for Somerset County. In a paper from T. A. Bodine, he says that in Snell's History of Hunterdon and Somerset Counties, Jacob was Commissioner of Roads at Sergeantville in 1738 (p. 383). [See also Monnette, Orra Eugene. First Settlers of ye Plantations of Piscataway and Woodbridge, Olde East New Jersey, 1664-1714 (published in 7 vols. in 1930), v. 3, p. 541. Original source is Somerset Co. Minutes 1683-1720, v. 1.] This is the County where Raritan was located and just west of Middlesex County. All of Jacob's siblings (Isaac, Peter, Abraham, Sarah and Catalina) were probably living in the Raritan area at that time, as well, since they are often found as witnesses for each other at their children's baptisms. Jacob Bodine is located as a resident of Bethlehem Township in 1735. This comes from The Jerseyman, v. 3, no. 1, April, 1895. The article is called The West Jersey Society's Great Tract in Hunterdon County. On page 3 of this article, Jacob Bodin is listed as a leaser of 200 acres. [There is also a Nicholas Bickle (Pickle?) listed with 100 acres.] Bethlehem Township formed part of Hunterdon County. Hunterdon County was formed in 1714 from Burlington County. Amwell Township was included in its boundaries as an original township. Bethlehem Township was formed in 1730, north of Amwell Township. Its western boundary is the Delaware River, which separates New Jersey from Pennsylvania. Alexandria Township was formed from Bethlehem Township in 1765. It also borders the Delaware River.
There was a great migration of people, especially the Dutch, to the Raritan Valley in the late 1600's. Much of this was caused by excessive taxation by the British colonial government (Centennial Discourses, p. 57). People tried to escape this oppression by moving deeper into the country. Jacob Bodine's brother, Isaac, was one of the earliest settlers in the Raritan area (Messler, 160). In this move, they followed the Raritan River up toward its sources. The Raritan (along with the Passaic) River was one of two main rivers settlers used to gain access to the interior of northern New Jersey. It was a beautiful river at that time. In speaking of the land near the Raritan River, the secretary of New Netherland called it the "handsomest and pleasantest country that man can behold" (Wildes, 26). The river's mouth is nearly a mile wide at the city of Perth Amboy where it intersects the Atlantic. After about twelve miles, it narrows to the size of a normal river at a place called Raritan Landing. The town of Raritan is another twelve miles upstream from there. Large ships could sail all the way to New Brunswick, two miles south of Raritan Landing, but smaller boats were needed for the rest of the journey to Raritan.
A Dispute in Raritan
Beginning in 1720, the Bodines were involved in a dispute at the Raritan Dutch Reformed Church. It is a famous theological controversy often mentioned in books describing the formation of the Church in colonial America. The church had basically operated without a minister from its official beginning on March 9, 1699 [The church was organized in 1696 (Messler, p. 167). This became official when a Rev. Bertholf appointed elders and deacons in 1699 (Messler, p. 161).]; although, it was founded and only visited twice a year, usually in the spring and autumn, by a minister named Guilium Bertholf (Messler, 163). In the Dutch Reformed tradition, Bertholf was basically "free-lance" with loose denominational connections. He served congregations, not just Dutch, all over that area and to the north. Eventually, Raritan, along with four other churches in the Raritan Valley (North Branch, New Brunswick, Three-Mile Run, and Six-Mile Run), requested a minister of their own. Theodorus Jacobus Frelinghuysen was sent from Holland to meet this need. He proved to be a young man (not yet thirty) who did not mince words. He preached against the old dead forms of the established church and toward a more personal religion. He was also in favor of a more American church, one not so dependent on the hierarchy in Holland. However, he was very authoritarian in his leadership. Those who failed to meet his approval were often discouraged from receiving the sacraments. This did not go over too well with many people in those congregations. Beginning with his first sermon in 1720, he stepped on a lot of toes and angered many of the church members. Even Bertholf warned his fellow minister and friend, Frelinghuysen, after seeing the way he preached (Jacobsen, 100). The warning was something to this effect: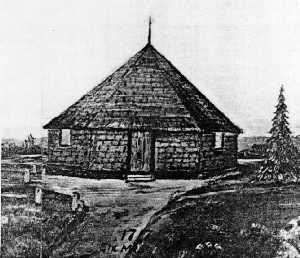 The congregation at Raritan were very feeble in respect to spiritual things, and that there were danger that Rev. Frelinghuysen, by his harsh conduct, should change the people into Quakers, or Atheists, or Suicides, or Pharisees; Quakers, because of his talk of praying from the Spirit, and about special illuminations; Atheists, because of his threats in respect to hell and damnation, as though there were no Heaven, and, therefore, no God; Suicides, because he required, before regeneration, despair, which is the path to suicide; and Pharisees, because he descanted on one's ability to perceive his own regeneration, and cause the people to depend, not on God, but on their own opinion of themselves. Eventually, a formal Complaint was written up and signed by sixty-four heads of households (Boel, 48). Many of the practices the complaint mentioned are considered standard practice in American churches today. One of the things Frelinghuysen did that riled a lot of people was to use English in the Dutch church and to preach alongside a Presbyterian minister in English (Maxson, 17). Many thought that was heretical back then. ("Conservatives" clung to ritual, liturgy, the Dutch language, and Holland. "Evangelicals" called for less formality and for preaching in English.) The Complaint was sent to the church hierarchy in Amsterdam. Jacob Bodine's brother, Peter (signed Pieter Bodyn), was one of the people to sign this document; although, neither Jacob, Isaac, nor Abraham signed it. Peter was apparently a member of the New Brunswick or Six Mile Run church (Messler, 209). Isaac Bodine may have originally been a member of the North Branch congregation (Messler, 165), but his children were baptized at Raritan. Jacob and Abraham were also members at Raritan (baptismal records). The complaint was never really acted upon and the church was left to settle their differences on their own. An interesting confrontation between Frelinghuysen and Peter Bodine's wife is mentioned in the complaint concerning the minister's habit of excluding people from communion who he thought should not have been there (italics have been added): In the spring of 1723, the minister said to her (Pieter Bodyn's wife), "You should not complain at not having been invited to attend the communion, because you belong to Claas Hayman's people." Bodyn's wife asked what that meant? The minister said that Claas Hayman had been one to secure subscribers (people who signed the complaint) against him (Frelinhuisen). Bodyn's wife answered that she was not of these (subscribers). The minister said, 'Your husband is." She said, "I cannot help that." Notwithstanding, the minister allowed her to remain uninvited (Boel, 72). Later, the church split and another congregation was formed. This is referred to as "Raritan, Secession" in the records. It existed from 1730 until 1754 in which year the churches reconciled their differences. As Frelinghuysen got older (he died around 1748), he also appears to have tempered his views quite a bit. Several revivals are credited to his ministry. Even the great evangelists George Whitefield and Jonathan Edwards (Messler, 168) commended his zeal and success (Centennial Discourses, 59). Whitefield called Frelinghuysen "the beginner of the great works in these parts" (Whitefield, Journal, no. 5, p. 41). Eventually, a majority of the people who originally opposed him accepted his ministry and ended up staying in the church. Jacob Bodine must have been one of these since all of his children were baptized there between 1711 and 1726.
An interesting note is that while all this was going on, the minister built himself a fortress of a house that still exists today. It is known as the "Old Dutch Parsonage." The Parsonage is near Somerville and is the forerunner of Rutgers University located some ten miles to the southeast of the parsonage, near New Brunswick. The Raritan church was a real hotbed of American patriotism in later years. In the winter of 1778 to 1779, George Washington and his troops camped near the church. The army struck up a good friendship with the Dutch who also wrote a letter in support of the Revolution. The British later burned the church in reprisal (Jamisen, p. 61).
Jacob's First Name
In 1760, Jacob was supposedly living in Lebanon Township in Hunterdon County, New Jersey. He made a will or bill of sale on September 3, 1763, leaving some slaves to his son, Cornelius. This tattered piece of paper had his name written as J. Jacob Bodine. This is the only evidence that his first name may not actually have been Jacob, but possibly John. (This was found in some unpublished notes on John Bodine of Nelson County, by MBP, p. 2, in the Frankfort Historical Society's files. See also the short biography on James Morrison Bodine in the History of Kentucky and Kentuckians, v. 2, p. 1010.) However, if his children followed Dutch naming customs, which it appears they did, Jacob's first name is definitely "Jacob." All of his male children named their first sons "Jacob." This would follow the Dutch custom of naming the first male child according to the name of its paternal grandfather. According to information from undocumented sources, Jacob died in either Hunterdon County or Somerset, New Jersey. D. L. Durham says he died in Somerset.
Jacob's and Elizabeth's Children
Most of the children of Jacob and his wife Elizabeth are mentioned in the baptismal records at the Dutch Reformed Church of Raritan. The Somerset County Genealogical Quarterly, December 1985, pages 229-237, lists an "Ariaentje" born about 1709. It does not say where this name came from. She has not appeared in any records seen to date. She could be their daughter. LDS information also says that an Ariantje Bodine, born about 1709 of Somerset, New Jersey was their daughter. And the SCGQ gives them a son "Peter" born about 1728. See more about this Peter in his Notes file.
Bibliography
Boel, Henricus. Boel's Complaint Against Frelinghuisen. Translated and edited by Joseph Anthony Loux Jr. Rensselaer, NY: Reformed Church Historical Society Edition (Hamilton Printing Company), 1979. This is not just a translation. There are many comments by the editor as well. There are a couple of good maps from the middle 1700's showing where the churches and houses of the area were located as well as pictures of the Six and Three Mile Run churches. Centennial Discourses: A Series of Sermons Delivered in the Year 1876. New York: Board of Publication of the Reformed Church in America, 1877. Pages 43 to 59 give some good facts about the beginning of the Reformed Church in the New York area and about Frelinghuysen. This includes a sermon by John Bodine Thompson, minister in Catskill, NY. The Collegiate Churches of Kings County, Brooklyn, 1928, by J. Frederic Berg. Corwin, Edward Tanjore, D.D. A Manual of the Reformed Church in America (1628-1902). New York: Board of Publications of the Reformed Church in America, 1902. This is supposedly the best history of the Reformed Church. It lists all the early churches and who their ministers were. It is very well researched. There is a picture of the church in the fort on page 25. Ecclesiastical Records of the State of New York. 7 volumes. Albany: New York State, 1901-1916. This contains a contemporary account of the DRC along the Raritan. Nothing found in the first two volumes. Volume 7 is an index that does list Peter Bodine as appearing in volume 4. This probably has to do with the complaint against Frelinghuysen, though. Jacobsen, Douglas G. An Unprov'd Experiment: Religious Pluralism in Colonial New Jersey. Brooklyn, NY: Carlson Publishing, 1991. This discusses the controversy surrounding T.J. Frelinghuysen's pastorate at Raritan DRC. Jamison, Wallace N. Religion in New Jersey: A Brief History, v. 133 of The New Jersey Historical Series. Princeton, NJ: D. Van Nostrand Company, Inc., 1964. This has various pages on the Frelinghuysen controversy. Maxson, Charles Hartshorn. The Great Awakening in the Middle Colonies. Gloucester, Massachusetts: Peter Smith, 1958. Discusses Frelinghuysen's work and his relationship to the revival and revivalists of the middle colonies. Messler, Abraham, D.D. Forty Years at Raritan: Eight Memorial Sermons. New York: A. Lloyd, 1873. This is probably the best history of the DR churches in the Raritan Valley. Many names are given as to who belonged to which church. The signers of the complaint against Frelinghuysen are mentioned, too. Isaac Bodine is listed on pp. 160, 165. Peter Bodine is listed on pp. 179, 209. Sebring Collections: The Genealogy and History of the Family. This was compiled by Walter Wilson Sebring and John Cletus Sebring. It was edited by N. VIncent Parsons and Margaret P. Parsons. Passages talk about Rev. Johannes Theodorus Polhemius who was the first minister of the Dutch Reformed Church in Midwout (p. 18). The Van Deventer Family. This was complied by Christobelle Van Deventer. It talks about Jan Pietersz van Deventer who started the Chursch at Midwout (p. 14). Wildes, Harry Emerson. Twin Rivers: The Raritan and the Passaic, from The Rivers of America Series. NY: Farrar & Rinehart, Inc., 1943. This is a good, but brief, history of the early settlers on the Raritan River. It also has something on the Frelinghuysen problem.