Notes for: John Bodine
I have never seen any primary sources listing the names of John Bodine and Mary Crocheron's children. There are secondary sources, i.e., various genealogies written about this Bodine family. From looking at all that information, the best list of these children would be John, Isaac, Jacob, Sarah, Catherine, Peter, and Abraham and possibly a Judith Bodine whom we can't quite place yet (maybe their last child or the child of a second wife for John). So one should realize that this list of their children is only an educated guess. Hopefully, more information will come to light on who John and Mary's (Mary Crocheron) children were, but it is not likely. These children were probably born on Staten Island and baptized at the Old French Huguenot Church of Fresh Kills, but there is no source for this information either. This John's parents probably attended that French Huguenot Church (near what is Greenridge, Staten Island, today) of which no records seem to have survived. They were some of the earliest pioneer families on Staten Island. Sometimes they had a church to attend and a pastor who may or may not have kept records. And other times they had no pastor. It would be quite something if these ancient church records ever did come to light, but they are probably lost now forever.


Here is some information sent to me by Scott Thompson (iamsthomp2 at worldnet.att.net). It comes from page 490 of History of Hunterdon and Somerst Counties New Jersey, compiled by James P. Snell (Philadelphia: Everts & Peck, 1881). The information in Snell's book does seem to have several errors, but it is probably the earliest information on who some of the children of John and Mary Bodine were. He must have gotten this straight from some of those Bodines themselves. Here is the info:


The Bodine Family is an honored one in the history of France, but moderate as were the advices of Jean Bodine, the wise counselor of Henry III, his relatives were afterwards compelled to flee, with other Huguenots, to Holland, whence they ultimately came to Staten Island, at least as early as 1701.*


From the mouth of the Raritan they ascended to its source. Among the settlers of this region there were at least five of this name, all of whom left a large number of descendants.


*The earlier history of the Bodine family has been traced by Rev. Dr. Charles Baird, of New Rochelle, N.Y., for his forthcoming work on the Huguenots of America.


John Bodine had a plantation, early in the last century, on the west side of the North Branch. Immediately north of that was the Ammerman tract, and immediately north of that the Du Mont tract. This John Bodine had a son Abraham, who married Mary Low, and had John, baptized April 15, 1748; Judick baptized March 31, 1745, married Samuel Willemsen; Mary, probably the Mary that married Thomas Cooper; Cathelyntje, baptized Sept. 3, 1749; Sarah baptized Aug. 10, 1755 ; Cornelius, baptized November, 1755, married Margaret Sutphen, of Six-Mile Run, born 1754, and had Abraham, Peter, John, Cornelius, Gilbert, Issac, Charles, and George, all deceased.


Isaac Bodine had eleven children,- eight by his first wife, Cataleyn, and three by his second wife, Jannetje. These children, with dates of baptism, were Jan, Nov. 19,1703; Jantien, April 30, 1707; Frederick April 26, 1709; Mareyken, April 25, 1711; Kataleyn, Aug. 8, 1713; Isaac, April 5, 1715; Abraham, July 31, 1717; Elizabeth, Oct. 31, 1719; Hester, Dec. 25, 1723; Isaac, Aug. 16, 1730; and Jannetje, Aug. 16, 1730.


Peter Bodine had two children by his first wife and one by his second, Margrita. Their names and dates of baptism were Jan, April 30, 1712; David, April 3,1717; Mareytje, Oct 15, 1738.


Jacob Bodine's wife was named Elizabeth. They had six children,-Viz,, Jan, St. Jantien, Jacob, Catherine, Cornelius, and Antje.

[Note from Dave Bodine: I wonder if "St. Jantien" might be the name of the boat this Bodine family came over on from Europe. Just a wild guess but I have seen some other family that did that with this same name: St. Jantien.]


Abraham Bodine married Adriantje Janse, and had nine children, among whom were Catrina, baptized April 14, 1725, and married Lodewyk Haydenbrook; Peter baptized December, 1726 and twice married ( first, Mareytje; second, Widow Williamson}; John, baptized Dec. 5, 1730, married Femmetje Vorhees; Abraham and Judick. The last named was born March 17, 1735, and ultimately married John Thompson.


***End of info from Scott Thompson.


The gist of this very early information above on the children of Jean Bodin and Maria Crocheron is that they did have a son named John Bodine. So the name of this child, John, is not hypothetical. He probably did exist. According to Dutch naming customs, Jean and Maria's first son should have been named "John" if the grandfather was also named "Jean."


Another time a "John" has been listed as one of Jean and Maria's children was in an article from the May or July 1989 Sebring Newsletter. No source for this name was given there. It was in an outline giving the names of Jean and Maria's children.


Someone has mentioned information about a John Bodine who was a brother of the Sarah Bodine who married John Van Meter. He was referred to as the John Bodine of Raritan Landing. That John Bodine would have to be this John Bodine since he is Sarah's brother. The information went on to say that John also had been a trader and was probably as associate of John Van Metre, Sr. in his Indian adventures." For more information, see the "Somerset County Historical Quarterly," 1916, p. 122 and Colonial Archives of NJ, 1st Series, XXX, p. 151.


I was wondering if this John Bodine might not be the real father of the Abraham Bodine who married Mary Low. I did have Abraham's father listed as Isaac Bodine, this John's brother. However, Dutch naming patterns point more to Abraham's parents being named John and Mary. My educated guess is that this John is the father of the Abraham Bodine who married Mary Low and that this John's wife could have been a woman named Mary. This is all a little speculative, but it makes sense.


Given Dutch naming customs, I do think this John's wife was named Mary. And this John Bodine does witness a baptism with a Marie La Tourette on April 10, 1720 at the Dutch Church of Staten Island for Johannes Egbertsen son of Abraham Egbertsen and Francyntje Parain. The LaTourette family was very much present in the area of this Bodine family.


In the book History of the West Branch Valley, p. 522, it says that Abraham Bodine was the son of of a John Bodine who in 1727 was living on his plantation west of the North Branch of the Raritan, known as No. 67 in the "Elizabeth Town Bill in Chancery." I believe this is correct. The big question is this: Who was that John Bodine? I think it was this John Bodine, the son of John Bodine and Maria Crocheron.


Below is a picture of many of the lot numbers mentioned in the Elizabeth Town Bill of Chancery. I believe I could see where No. 67 was, but I'm not sure. Whatever the case, it is somewhere around there since it is "west of the North Branch of the Raritan." This image came from somewhere on the Internet, but I have forgotten now where that was.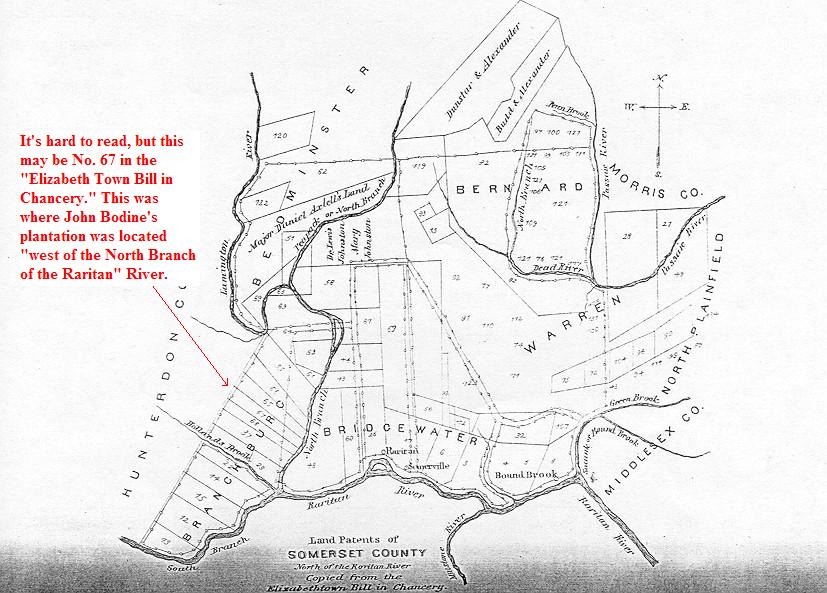 In his will, Abraham (the probable son of this John) mentions his "Dutch Bible." This could be important. It might show that this Bodine line was much more Dutch than they were, for example, French.


Here is some more information which shows that the immigrant Jean Bodin had a son named John Bodine who was the father of Abraham. It comes from the Genealogical and Personal History of Lycoming County, John W. Jordan, Lewis Historical Publishing Co., 1906. It says the immigrant Jean Bodin was the one who was born in 1645 and died in 1695. I think that is actually correct, but it needs continued investigation. Here is that write-up:


DEWITT BODINE


DeWitt Bodine, a leading citizen of Hughesville, and for many years prominently identified with the commercial and financial interests of Lycoming county, is the representative of an old and honored ancestry dating back to colonial times, only a few years after the Dutch authority was superseded by English rule.

.....The emigrant ancestor of the Bodine family in America was Jean Bodin, a Huguenot, born in France in 1645, and died on Staten Island, New York, in 1695. His son John had a son Abraham, whose son Cornelius, born in New Jersey in 1756, served with honor in the Revolutionary war. Cornelius Bodine married Margaret Van Sutphen, of Dutch descent, and they settled in the vicinity of Hughesville, Lycoming county, in 1802, and subsequently removed to Seneca county, New York, where they died, respectively, June 12, 1820, and November 15, 1824. Their children were : Abraham, Peter, John, Cornelius, Gilbert, Isaac, Charles and George.


*********


Source: Dutch-Colonies-L@rootsweb.com

Subject: [D-Col] Page 3 of the 1706 to 1709 Staten Island Census records



Here is page 3 and I have tried to make some order to this page. Now I have mentioned serveral Wills that I have posted earlier and if someone needs them let me know. A lot of these families on this page connect in one way or another. Some of the single men and women may have been working for the different families at the time. As I don't reconize a lot of the single names. Now remember these are mainly some of my thoughts and if you don't want to read them then don't, but some times it helps to have something to prove right or wrong.



Good luck

Wayne.



Last Name First Age Page # Comment

Stuart Alexander35 3 1 Man

Stuart Catherine 3 1 Woman

Alexander Stewart was listed on the St. Andrew's Protestant Episcopal Church Charter usually know as "Queen Anne's Charter," dated 12 June 1713.



Marlett Joseph 24 3 2 Man

Brittin Joseph 40 3 3 Man

Brittin Elizabeth 3 3 Woman

This was the Joseph Brittain that was baptized 14 July 1678 when he was 9 years old to William Brittain and his wife Maria ? (David Voorhees Flatbush records, page 387). It looks like his wife was Elizabeth and they had a son, James baptized 23 Apr 1707 St Andrew RDC, Staten Island. So from this lack of a child listed we can say the they were counted in the census prior to April 1707. Now the wit to the baptism of James was James Hanszen and wife. Now I wonder if Jospeh's wife wasn't Elizabeth Hanszen. And the family listed on page 1 of this census listed below, wasn't the family of Elizabeth? This is just based on the baptism records of 1707 and no other proof.



Last Name First Age Page # Comment

hans Elizabeth 1 4 Girl

hans Sarah 1 5 Girl

hance Catharine 1 7 Girl

hance Anna 1 8 Girl

hance mary 1 11 Woman

hanse mary 1 12 Woman (these 2 Marys could be the same person, or maybe an older daughter, Wayne)



hance John 1 13 Boy

hance James 45 1 14 Man



Pullion Sarah 32 Woman

Pullion John 26 3 4 Man

This could be John Poillon, son of Jacques Poillon and Adrianna Crocheron, who married Sarah Lake on 19 Sep. 1704 (NA DRC).



Peryne Anne 3 4 Woman

Peryne Peter 27 3 5 Man

This could be Peter Perine and his wife Anne Holmes who I have married 16 Oct. 1704 (daughter of Samuel Holmes and Alice Stillwell). I have no records to support this marriage date. It was from the WFT records.



Lawrence Sarah 3 5 Woman

Lawrence John 19 3 6 Man

John and Sarah could be the children of #56 on this page, Hanss Lawrence.



Mitchil Mary 3 6 Woman

Mitchell John 18 3 7 Man

Mitchil Garreky 3 7 Woman

Mitchill James 35 3 11 Man

These Mitchells could be the children of #55 Richard Mitchell on this page.



Kirktone John 30 3 8 Man

Brown Jean 3 9 Woman

Brown John 39 3 13 Man

Waltin Martha 3 8 Woman

Waltin Thomas 34 3 12 Man

Waltin Rebecca 3 17 Woman

This could be Thomas Walton and his wife Martha Stillwell (daughter of Richard Stillwell and Mary Cooke). I believe we have talked about Thomas as
being the brother of William Walton who married Maria Sandfort of New York, but not certain of that. Rebecca could be a sister of Thomas.



Van Clief Hanis 26 3 9 Man

Van Clief Ram 27 3 10 Man

Rem and Hanis (John) Van Cleef are most likely the children of Jan Cornelis Van Cleef and Engeltje Laurens. Their brother Isaacbrant was listed as #39 on this page. (see my comments on him.)



Comons Esther 3 10 Woman

Brittin Mary 3 11 Woman

Derno (Derwo) Catherine 3 12 Woman

Stilwell Rebecka 3 13 Woman

Stilwell Mary 3 14 Woman

The Stillwells are all mixed up on this page and it is hard to figure them out. Now Jeremiah Stillwell, who was listed on this page as #20, was married
to a Rebecca (Ashton?). and also John Stillwell, who was listed on this page as #37 and was married also to a Rebecca (Throckmorton). There were lots of Mary Stillwells and also wives that were named Mary.



Comons William 34 3 14 Man

Comon George 22 3 15 Man

Fountine Hannah 3 15 Woman

Hannah Fonteyn may be the wife of #36, Vincent Fonteyn on this page. He was married to a Anne Martense. Vincent Fonteyn wrote his Will on 4 Jan. 1732 and it has been posted on this site prior.



Colerich Peter 19 3 16 Man

Lackerman Catherine 3 16 Woman

Adriance Gazen 25 3 17 Man

This is Gozen Adriaense Ryerson, who was married to Femmetje Vanderbilt, daughter of Aris J. Vanderbilt and Hildegonde Remsen. Now Femmetje
Vanderbilt's sisters, Annetje, who married Isaac Simonson (#40 on this page) and Jannetje Vanderbilt, who was married to Isaacbrandt Van Cleef (#39 on this page). Now I don't know why none of their wives were not listed on this census. My only thoughts on that would be that they were not married at this time, but were married shortly after the census. There are no Vanderbilts listed on this census at all, so they may have been living someplace else.



Vantyll Sarah 3 18 Woman

Brittin Nathll 19 3 18 Man

Brittin Frances 3 19 Woman

This could be Nathaniel Brittain and Frances the children of Nathaniel Brittain and Mary (Chamberlain?)



Stilwell Jeremiah 25 3 20 Man

Stilwell Martha 3 20 Woman

Stilwell Gersham 23 3 21 Man

Stilwell Rachel 3 21 Woman

Martha is most likely the widow of Thomas who died in 1705. Rachel could be her daughter, who later married William Brittain. I am not sure on Jeremiah and Gersham. They could be the sons of Thomas Stillwell's brother, Jeremiah Stillwell, but have no proof and that may be going to far to say that.



Johnston Anne 3 22 Woman

Brittin William 21 3 22 Man

Okay now this may be the William Brittain that married Rachel Stillwell who was #21 above.



Derna Jacob 30 3 23 Man

Billopp Mary 3 23 Woman

Billopp Hanna 3 24 Woman

These two Billopp may go with Joseph Billopp that was listed on page 5 of this census, who was listed as age 63 and was #36 on that page.



Courtess Isaac 20 3 24 Man

Pharmer Nansie 3 25 Woman

Van Tyll Isaac 25 3 25 Man

Isaac Van Tuyl was later married to Sarah Lackerman, who was the daughter of #52, Abraham Lackerman. Isaac wrote his will on 24 Dec. 1724, which was posted before. Sarah Lackerman was a sister to Isaac and Abraham Lackerman listed below (#26 & 27



Swam Jane 3 26 Woman

Lackerman Isaac 21 3 26 Man

Lackerman Abraham 23 3 27 Man

Yorta Mary 3 27 Woman

Scoutt Arria 30 3 28 Man

Fountine Vincent 36 3 29 Man Mention above.

dusway Susana 3 28 Woman

dusway Susana 3 29 Woman

dusway Elizabeth 3 30 Woman

Brittin Nickolas 27 3 30 Man

Brittin Benjamin 29 3 31 Man

This may be the Nicholas Brittain who was married to Frances Stillwell daughter of Thomas Stillwell (who died about 1705) and Martha Billou. It seems like this group of Brittain and Stillwells go together. Nicholas and Benjamin baptisms were listed in the Flatbush Church Records by David Voorhees. (Benjamin was on page 387 and listed as age 7 when he was baptized in 1678. Daniel was listed on page 401 and baptized 17 Oct. 1680.)



Keer Henry 28 3 32 Man

Johnston Isaac 32 3 33 Man

Billew Isaac 48 3 34 Man

Billew James 22 3 35 Man

Billew John 18 3 36 Man

Stilwell John 43 3 37 Man

Brittin Nathll 42 3 38 Man

Van Clief Isaac Bra28 3 39 Man

(van Cleaf Hilithe 6 39 Girl

van Cleaf John 6 40 Boy

van Cleaf Angelthe 6 40 Girl

van Cleaf Anne 6 41 Girl

van Cleaf Catharine 6 42 Girl)

Simessone Isaac 29 3 40 Man

"This is Isaac Simonson, who was married to Annetje Vanderbilt. He was living next to his future brother-in-law, Isaacbrant Van Cleef, who was married to Jannetje Vanderbilt, Annetje's sister. Now I don't know why Annetje Vanderbilt and her sister were not listed. I do believe that they were married by that time. Isaacbrant's two brothers, Hans (John) and Rem were numbers 9 and 10 on this page. Now I have the older children of Isaacbrant and Jannetje as John and Ann and on page six there was a John and Anne listed with several other children. I will admit these census are quite a challenge"



Mitchill Richard 32 3 41 Man

Goulden John 26 3 42 Man

Whittman Nathun 18 3 43 Man

Du Shane Valentine27 3 44 Man

Jacobs Charles 24 3 45 Man

Green George 35 3 46 Man

Vanhoe John 20 3 47 Man

Vanhoe Francis 18 3 48 Man

Pullion James 25 3 49 Man

Oasburne Samuel 27 3 50 Man

Bedyne John 26 3 51 Man

Lackerman Abraham 45 3 52 Man

Tallon John 20 3 53 Man

Poillion Sr James 60 3 54 Man

Mitchill Richard 68 3 55 Man

Lawrence Hanss 63 3 56 Man

Noftie (?) Jacob 65 3 57 Man

Burgie John 42 3 58 Man

Guyon James 24 3 59 Man



*****End of info



Ann Messecar emailed me and brought to my attention this group of men above. The John Bedyne (Bodine), Abraham Lackerman, James Poillon Sr., James Poilon, Jr., Richard Mitchell, Hans Lawrence all have a connection in that they were connected to the the Will of John Bodine of 11 Feb. 1695. The inventory was taken on that date. Now Richard Mitchell, hans Louvens (Lawrence) and Abraham Loconers (Lackerman) sworn to on that date that the inventory was correct.



Ann goes on to explain the connections



"There was a John Bodine that died in 1694/5 when Paulus Richards was appointed to administer his estate. The inventory of this estate was sworn to by Richard Michell, Hans Louvens and Abraham Laconers in February of 1695. The John Bedyne here I would think might be his grandson?

.....My notes is that this John Bodine was the son of John Bodine and Maria Crocheron, who were married 11 Jan. 1680 at Midwoud (David Voorhees Flatbush Records). And Jacque Poillon was married to Adrianna Crocheron. Later, by 1720, he marries (3rd) a Judith Bodine, daughter of John Bodine. I feel she belongs to the John Bodine. (Now Jacque Poillon's two sons James and John are listed above James as #49 and John and his wife Sarah Lake as #2 & 4. And you will also find Jacques Poillon's daughter Katharine's, husband Samuel Osborn listed as #50. (now I don't know why Katharine Poillon wasn't listed), Abraham Lackerman was married to Catherine Crocheron (and later another wife) and also had children. Yet the census also lists him as a (cuts off here).



From Ronny Bodine:



In the book History of the West Branch Valley, p. 522, it says that Abraham Bodine was the son of of a John Bodine who in 1727 was living on his plantation west of the North Branch of the Raritan, known as No. 67 in the "Elizabeth Town Bill in Chancery."



No one else names this John as a son of John and Maria except in Snell and his copyists. But if he were living in 1727 on the family plantation would he not better be identical with Jan (=John), son of Isaac Bodine who was bapt. 19 Oct 1703 and thus was 24 at this time and a perfect candidate?