Notes for: John Bodine
Some people have questioned the traditional date and place for his birth (January 23, 1681 in Rye, Sussex, England) as was stated in the 1904 genealogy by Mary Elizabeth Sinnott. It seems that parish registers for Rye did not record birthdates and there were no baptisms of any Bodin/Bodines during that period.

He is named in his father's will of 1702. This is probably the Jean Bedyen mentioned who is 26 in the New York Census of 1706 (p. 152, see earlier information about this census). He was a sailor. He left a will just before going to sea "against his Majesty's enemies" in the ship New York Gallery under captain Tongslough. The will was dated January 2, 1706/7. It was proven June 19, 1724. Since he was childless, he made his siblings his heirs. He mentions brothers, Eleaser and Francis and sisters, Esther and Mary (NY Wills, 10, p. 159; NY Colon. Mss. Land Papers, 4, p. 84). He may also be the Jean Bodin mentioned at two baptisms at the Dutch Reformed Church:

April 10, 1720 - Egbert Egbertse & Francyntje de Chene baptised Isaak. The witnesses were Jean Bodin and Marie La Tourette.

March 3, 1727/28 - Pierre La Tourette and Marianne Mersereaux baptised Daniel. The witnesses were Jean Bodin and Elisabet Mersereaux.

About these baptisms, Pamela Sears (pjsears at stratos.net) said, "At the baptism of Daniel La Tourette (3 Mar 1727/28), I believe Elisabet Mersereau to be the sister of Daniel's mother, Marianne Mersereau. At the baptism of Isaak Egbertszen 10 Apr 1720, I cannot establish a relationship for either of the sponsors." In another message, Pamela wrote "Having just recently disected the Mersereau family, I sincerely doubt that Marie La Tourette was married to Jean Bodine. I found no evidence whatsoever to point in that direction. The only one in that time frame was married to Samuel Broome. And the only Elisabeth Mersereau that I know of was married to Pierre Masse."

Some have wanted to prove by Jean's association with Marie La Tourette at the first of these baptisms that she was his wife. The argument is confusing, but possible (see "The Bodine Branches" article of October, 1959).

From page 159 of "New England Families Genealogical and Memorial," Third Series, volume 3:

In the name of God, Amen. January 2, 1706/7. I, JOHN BODINE, of New York, being outward bound on a voyage to sea, against her majesty's Proclaimed enemies, with Captain Tongorlaugh, in a ship called the "New York" galley. I leave to my brother Eleazer Bodine 1/6 of my share of the money and goods which may belong to me by this voyage, and the rest to be divided among my brothers Eleazer and Francis, and my sisters Esther and Mary. I make my uncle, Dennis Reshere, of New York, ship-carpenter, executor. Signed, JEAN BODINE.
Witnesses, Jacob Brant, Johanes Paulson. Proved, June 19, 1724.

Information from somewhere has said that in 1722 this John Bodine paid L325 to Francis Bridon for the tract which his father had bought in 1701 and that he was left a legacy by John and Esther Casson (his sister) in 1736/37. However, Ronny Bodine says these transaction have nothing to do with this John Bodine; rather, they refer to the John Bodine of Bethune, the second husband of Esther Bridon. The second transaction would have been impossible for this John Bodine anyway, since he died by 1724.



Here is an image of the abstract of the will. It would be great to get the signature off the original. This was sent to me by Dolores Bordine.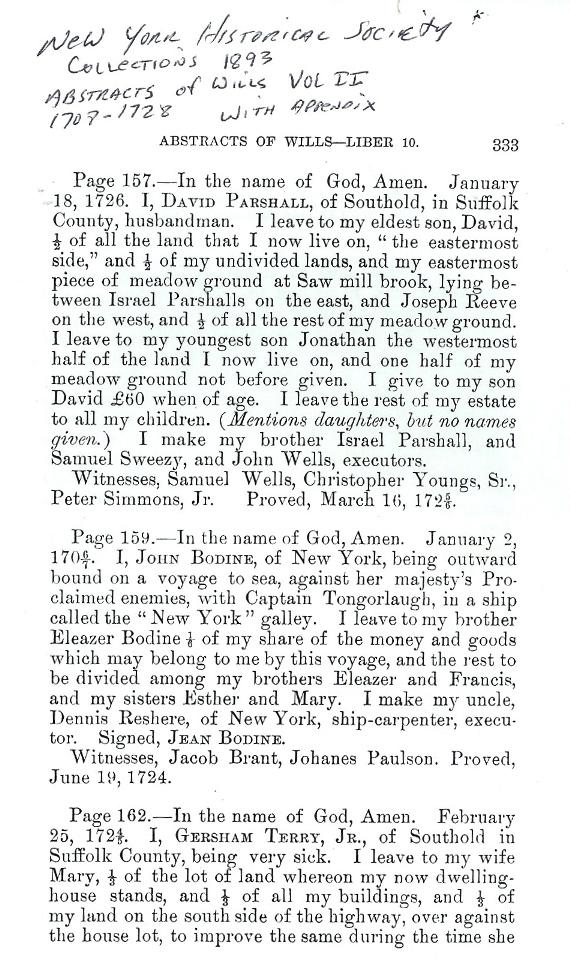 From Ronny Bodine (June 2017):

He was undoubtedly the eldest son, being the only child named in his father's will and therein is tasked to help his mother in raising the other children who had not yet attained the age of 21. In the Staten Island census of 1706/8 he is listed as 'John Bedyne' aged 26. In 1714, as Jean Bodine, he witnessed a deed from Johannes Smock to Francis Bridon (Richmond County Deeds, B, 612). Francis Bridon was his maternal uncle. He wrote his will on 2 January 1706/7 and therein refers to himself as 'John Burdine, of New York.' He states he is outward bound on a voyage to sea against His Majesty's enemies with Captain Tongslough, in the ship "New York Galley." He makes no reference to a wife or children in his will and leaves his estate to his brothers Eleazer and Francis and to his sisters Esther and Mary. The will was proved 19 June 1724 (New York Wills, x, 159).