Notes for: Kathryn ("Katie") Beulah Bodine
There is some doubt as to her name being Kathryn/Katherine Beulah or Beulah Katherine. We'll go with the name on the tombstone: Kathryn B. Rennick with the "B" most likely meaning Beulah.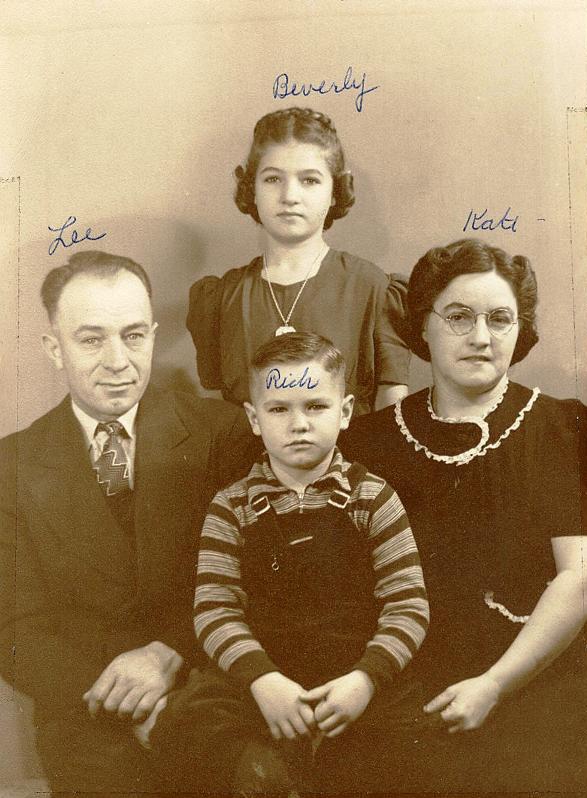 Ed Bodine said that Katie passed away just about 2 weeks after Lee. They lived just a few doors down from the Bodine Shelby Funeral Home in Covington. They had 2 boys and a girl: Beverly, Richard and Roger.

From Jan Bodine:

I found another family tree which related that her first name was Beulah. Although Marvin is unable to confirm or deny this information, I have accepted this name as I sincerely doubt that they just made it up.

Beulah Katherine "Katie" Bodine
born Jan 13, 1904 in Fountain County, IN
died about July 1975 in Covington, IN (Ed and I estimated as we remember that her death was in the summer prior to our marriage the following Spring in 1976)
Katie married Roscoe Lee Rennick
born Jan 29, 1903 in IN
died June 17, 1975 (just about a month prior to Katie's death) in Covington, IN
Lee was a son of
George Washington Rennick
born Jan 5, 1882 in Fountain County, IN
and Margaret E. Allen
born about 1881in IN
Lee had one sibling: Ralph Virgil Rennick
born about 1906 in IN
died April 1980 in Pasco, FLA

children of Katie Bodine and Lee Renick:
Beverly
Richard Lee
Roger Duane

These Rennick children are the ones who have the very old Bodine photos - after the death of Paddy and Gertrude, Katie came to the house and collected all the old family photos...


The picture below was sent to me by Janet Mackey-Bodine: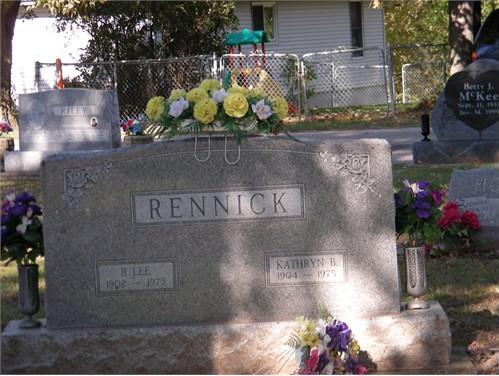 From Ronny Bodine:

From Fountain County, Indiana Marriage Records:
Roscoe Lee Rennick, born 29 Jan 1902 in Wabash Twp., Fountain County, son of George W. & Margaret E. (Allen) Rennick AND Katherine Beulah Bodine, born 17 Nov 1904 in Wabash Twp., Fountain County, dau. of Manford & Gertrude (Leusader) Bodine, were married 2 Jan 1928 in Fountain County, by J. B. Johnson.

1930 Wabash Twp., Fountain Co., IN: Lee R. RENNICK 27 IN farmer, Kathryn B. 25 IN wife.

1940 Wabash Twp., Fountain Co., IN: Lee RENICK 37 IN farmer, Katherine 36 IN wife, Beverly 9 IN dau, Richard 5 IN son.

From Social Security Records:
Lee Rennick was born 29 Jan 1903 and died in June 1975. His last residence was Covington, Indiana. [Note: Lee did NOT die in Indiana as there is no death certificate on file. He died in Danville, Vermilion County, Illinois where his death was handled by Pape Family Funeral Home.]

From Indiana Death Certificates:
Kathryn B. Rennick, widow, born 17 Nov 1904 in Indiana, dau. of Manford & Gertrude (Lewsader) Bodine; died 8 July 1975 in Covington, Fountain County; buried in Mount Hope Cemetery. Richard Rennick, son, informant.

Burials in Mount Hope Cemetery, Covington, Fountain County, Indiana.
(For grave marker photo see Find A Grave Memorial No. 20047383)
RENNICK R. LEE 1902---1975 KATHRYN B. 1904---1975