Dave's Bodine Genealogy Web Site
Ten Most Wanted | Picture Gallery | Contact | Home | Links | Archive Room | Name Index
Joyce Cook sent me this picture of a Bodine family reunion she found among photos that once belonged to her great-grandmother, Kate (Bodine) Hill. The only thing she knows about it was what was written on the back "Sept 9, 1909, Bodine reunion, Easton, PA." Joyce thinks that Kate Bodine is probably in the picture, but she is not sure. Kate would have been 65 in 1909.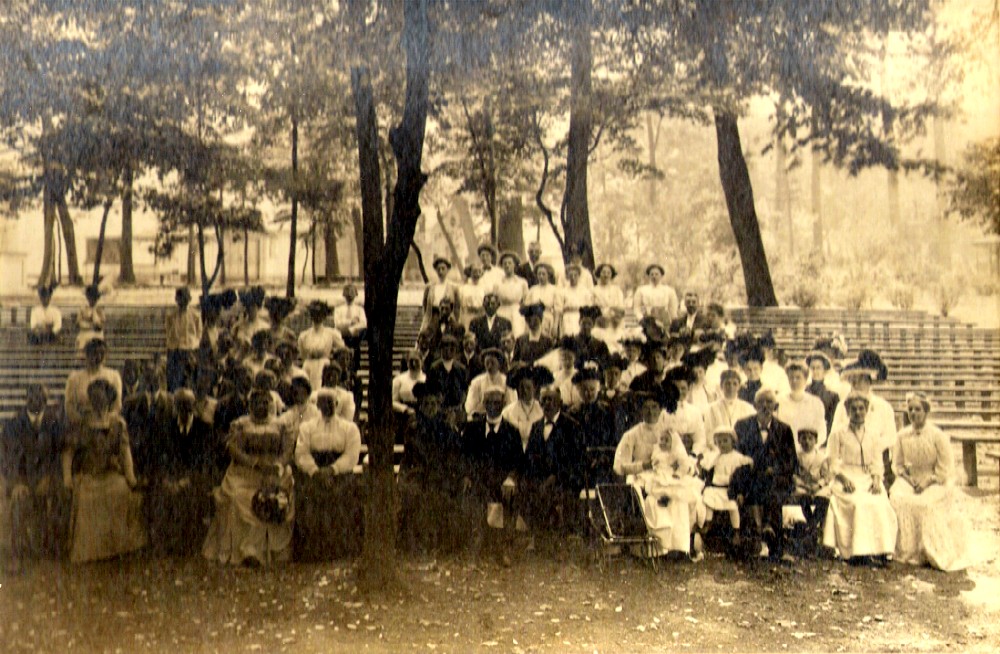 Kate Bodine was born February 3, 1844 in Pattenburg, New Jersey. She married Asa Cummings Hill on February 7, 1878 and died on September 27, 1938 in Medina, New York at the age of 94.
If anyone has information on which Bodines might be present in this picture, please do let me know. It might be a big help to check the archives of any local newspapers in Easton, Pennsylvania from around September 9, 1909 to see if there is any news on this reunion. It also might help to check the 1900 and/or 1910 Censuses from Easton and the surrounding area to see which Bodines (if any) lived there at that time.
Here is some new information Joyce sent me on this picture:
From: Joyce Cook [rcookjr at tampabay.rr.com]
Sent: Wednesday, October 27, 2004
Subject: Bodine Reunion
Dave, remember that picture I sent you on the Bodine Reunion in Easton, PA?  Today, I received from the Easton Area Public Library a copy from the Easton Daily Free Press, Friday, September 10, 1909.  Title: First Bodine Reunion held at Island Park  
Family association formed at close of two days' gathering - 150 were present - officers elected.  
The first reunion of the Bodine family was held at Island Park on Wednesday and Thursday.  The first day was given over to the forming of acquaintances and the renewal of friendships and the second day to the transaction of business. As association was formed and the following officers were elected: President, Rev. J.V. Bodine, of Tallman, NY; Vice President, B. Frank Bodine, of Doylestown; Recording Secretary, Miss Emma C. Warman, of Stockton, NJ; Corresponding Secretary, George M. Bodine of Phillipsburg, NJ; Treasurer, Benjamine D. Bodine, of Phillipsburg.  
It was decided to hold the next reunion at Island Park on September 1, 1010.  
About 150 members of the family were present on the two days.  A splendid dinner was served and all had a very pleasont time.  Superintendent Patterson, of the Easton Transit Company, being especially kind in his efforts to see that the participants were well taken care of and should have no cause for complaint.  Between 400 and 500 are expected at next year's reunion.  Bodines were present from three states - New York, Pennsylvania and New Jersey.  
The formation of the association was brought about through the work of Rev. J.V. Bodine and to him belongs the credit for bringing the widely separated members of the family together.
I later found some more information on this reunion in my files. It was sent to me from the card files at the Hunterdon County Historical Society:
Bodine Reunion 1909 at Island Park, near Easton, Pa. through the efforts of J. V. Bodine.
Those present were: Jane Bodine, Miss Carrie Bodine, Miss Lucy Bodine (Sandy Ridge ), Mrs. Lewis Bodine of Englishtown, Mr. & Mrs Walt Bodine of Philadelphia, Mr. & Mrs. Howard Bodine -- Grandson of Howard Bodine, Trenton, NJ.
Note: I think Jane Bodine was the widow of John E. Bodine, son of William H. Bodine or the daughter of William H. Bodine. Carrie could be Jane's daughter Caroline or she could be William H. Bodine's daughter. Lucy Bodine was probably Samuel Reading Bodine's daughter. Samuel was a son of William H. Bodine. Mrs. Lewis Bodine was probably the wife of Charles W. Bodine's son, Lewis. Charles was a son of William H. Bodine. I'm not sure who Mr. and Mrs. Walt Bodine would be, but I wonder if they were Mr. and Mrs. Watson Bodine, who was also a son of William H. Bodine. Or it could refer to Charles "W." Bodine. And Mr. and Mrs. Howard Bodine probably refers to Howard Bodine, the son of Charles W. Bodine (son of William H. Bodine). Whoever all these people were exactly, they definitely all seem related to William H. Bodine.
Ten Most Wanted | Picture Gallery | Contact | Home | Links | Archive Room | Name Index